News
First Auto Consumption Festival closes in Changsha county
By Xu Yinjuan and Xu Lili (chinadaily.com.cn)
Updated: 2014-12-26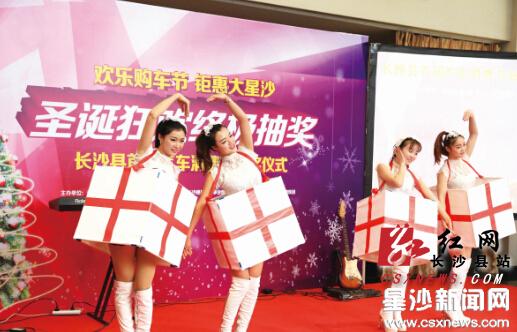 Dancing girls give a performance during the first Auto Consumption Festival in Changsha county, which closed on Dec 25, 2014. [Photo by Zeng Shiyi/ csxnews.com]
The first Auto Consumption Festival closed on Dec 25 in Changsha county,Central China's Hunan province. More than 10,000 cars were sold during the festival, csxnews.com reported on Dec 26.
The festival was sponsored by the local government, organized by the Bureau of Commerce of Changsha county and Changsha Evening News, and supported by the Central South Automobile World and the Shenxiang Group.
Among the joint venture automobile brands, Guangzhou Auto Fiat sold more than 400 cars. Dongfeng Yueda Kia sold over 200 cars. Shanghai Volkswagen, Dongfeng Nissan and Guangqi Honda also did well during the event.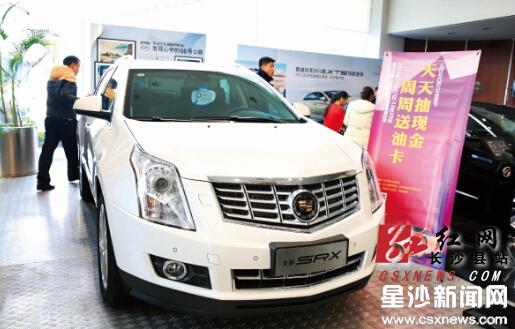 A lucky draw activity organized by the Hunan Shenxiang Cadillac Automobile 4s shop draws the attention of many car buyers during the first Auto Consumption Festival in Changsha county, which closed on Dec 25, 2014. [Photo by Zeng Shiyi/ csxnews.com]
Sales of imported cars such as Mercedes-Benz and BMW also improved .
Some independent brands won popularity among consumers. According to Miss Liang, a representative of the marketing department of Hunan Guangda Dihao Auto Company, they sold more than 300 cars in December. Other brands including Baojun Auto, Shanghai Automotive, General Motors and Norveco were also in demand.
Some car buyers won lucky draws during the festival, including gas filling cards and cash awards.
In recent years, the local government has sought to revive the region's long tradition in porcelain making and boost local industry with the cultural influence of ancient Tongguan kilns, which have a history of 1,200 years.
Contact Us
Tel: +86(0731)-8401-8486
Add: No.19, Kaiyuan Rd, Xingsha, Changsha county