News
Sunward's light sport aircrafts debut in Zhuhai Exhibition
By Zhang Qiong (chinadaily.com.cn)
Updated: 2014-11-13
Sunward Technology attended the 10th China International Aviation & Aerospace Exhibition in Zhuhai city on Nov 12, along with its Light Sports Aircraft Performance Team, the first of its kind in the country.
It is Sunward Technology's third flying display in for the Zhuhai Exhibition. Different from the previous two times occasions when the aircrafts arrived at Zhuhai by land transportation, this time, its flying team landed on at Zhuhai Jinwan Airport on Nov 6 after more than 4 hour's flight trip across a distance of 800 kilometers.
"The Sunward flying performance team has broken the record of flying distance record among light sports aircrafts in China by flying across Hunan and Guangdong province," said Zou Xiangfu, general manager of Hunan-based Sunward Technology, a branch companysubsidirary of Sunward Intelligent Equipment, an enterprise of construction machinery enterprise headquartered in Changsha.
The performance team was founded in this August and it will fully display its skills during the exhibition.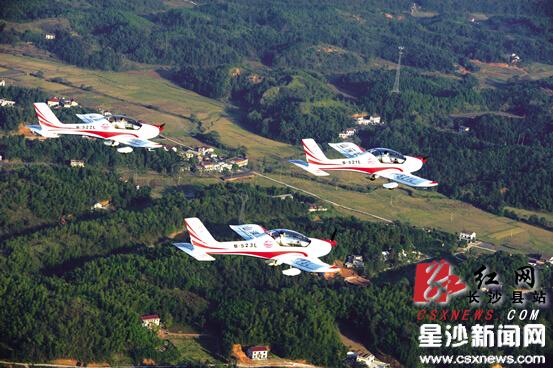 The Light Sports Aircraft Performance Team of Sunward Technology [Photo provided by Sunward Technology]
The 10th China International Aviation & Aerospace Exhibition, better known as Airshow China, is underway in Zhuhai city, South China's Guangdong province, featuring military hardware, trade exchanges and skillful displays of flying.
The popular event, held in Zhuhai every even-numbered year since 1996, began on Tuesday and continues until Nov 16.
In recent years, the local government has sought to revive the region's long tradition in porcelain making and boost local industry with the cultural influence of ancient Tongguan kilns, which have a history of 1,200 years.
Contact Us
Tel: +86(0731)-8401-8486
Add: No.19, Kaiyuan Rd, Xingsha, Changsha county