Dining
Laoxiangshi Restaurant

Updated: 2014-07-23
This was opened by the Changsha Laoxiangshi Catering Co, in 2003, to combine leisure and recreation.
Its young owner, Wang Zhenhua, has already developed two large restaurants in just two years, both in the tiny Xingsha district. His restaurants are some of the first choices of Xingsha residents and other visitors, who go out of the way to experience them first-hand.
The dishes have healthy ingredients and distinctness achieved through unconventional cooking methods. The delicacies, coupled with the service, tempt just about everyone.
While the decor may not be anything special, the atmosphere is relaxed and enjoyable, and perfect for a meal. There are delicious courses that come with a reasonable price.
Laoxiangshi Special Restaurant
Address: 330, Block 54, Xingsha district, Changsha county
Tel: 0731-402-2499
Parking lot: 50 spaces
Laoxiangshi Village Restaurant
Address: 200 meters from Kaiyuan East Rd terminal, Changsha county
Tel: 0731-639-9993
Average cost per person: 45 yuan
Style: Hunan cuisine
Hours: 10:00-22:00
Appropriate for: large gatherings, such as business banquets, birthday parties, family reunions, or just a group of friends dining together.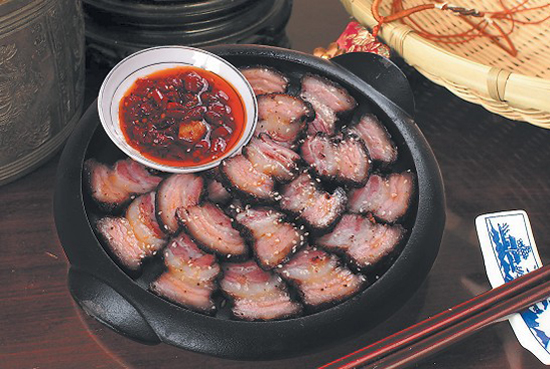 This secret barbecue involves very careful preparation, with only the juiciest carefully chosen meat, picked with Laoxiangshi spice, and grilled over wood, emitting a perfect chorus of tender, crispy meat and thick aroma.
In recent years, the local government has sought to revive the region's long tradition in porcelain making and boost local industry with the cultural influence of ancient Tongguan kilns, which have a history of 1,200 years.
Contact Us
Tel: +86(0731)-8401-8486
Add: No.19, Kaiyuan Rd, Xingsha, Changsha county