At the beginning of 2014, the State Forestry Administration announced that Kunshan Tianfu National Wetland Park was approved as a pilot State-level wetland park, the first of its kind in Kunshan, South China's Jiangsu province.
Covering an area of 8 square meters in the north of Kunshan Huaqiao Economic Development Zone, Tianfu Wetland Park was recognized as a Jiangsu provincial wetland park in September 2012.
To further promote Huaqiao's ecological culture construction, the zone developed an overall plan featuring ecological protection, cultural inheritance and low-carbon development for Tianfu Wetland Park to upgrade it to the State level. The park was divided into five functional sections according to the overall plan, which was approved by the expert team at the end of last year.
By dredging and purifying water resources, improving the ecological condition of farmland and protecting local-style dwellings, the zone will build the park into a high-quality agricultural-themed wetland park based on culture and ecological inheritance.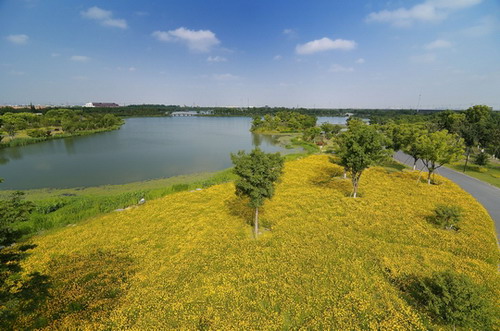 Tianfu Wetland Park in Huaqiao Economic Development Zone, Kunshan.