Florentijin Hofman, the Dutch artist responsible for the giant traveling rubber duck, took his team on a visit to the Huaqiao International Service Business Park in the city of Kunshan, South China's Jiangsu province, on Jan 24, for an on-the-spot study of the location prior to a visit by the giant rubber duck itself.
The central part of the park has been deemed a suitable venue for the rubber duck, according to team members, with the 9.9 hectares of water with an average depth of 3 meters, accounting for two-fifths of the central park.
Hofman gigantic brainchild began its tour of 11 countries in 2007, and has spent 50 days in Beijing, with more than 3 million people flocking to the capital's International Garden Expo Park and Summer Palace to get a look at the rubber duck.
Its Huaqiao International Service Business Park visit was scheduled for September and, thanks to the park's convenient transportation and business facilities, its show there is expected to attract more than 2 million visitors over a 45-day periods, providing an impetus for local tourism and a boost to Huaqiao and Kunshan.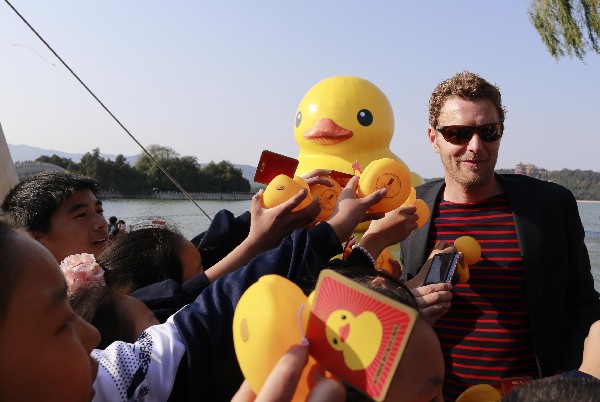 Florentijin Hofman and giant rubber duck in Summer Palace on Oct 24, 2013. [Photo by Feng Yongbin/asianewsphoto]