Cheng Guangfu used to spend his mornings in front of the television after retirement. Not any longer.
Nowadays, when he finishes his breakfast, he changes into his sports suit, puts on his sneakers and heads off with his table tennis paddles to a community sports center - a five-minute walk from his apartment - to join his partner.
"We play table tennis every morning and after dinner," said the 67-year-old from Kunshan, Jiangsu province.
"I hang out with neighbors, honing my table tennis skills and chatting, and we no longer feel so lonely despite the absence of our children. It's more fun than sitting in front of a TV, killing time."
The community sports center is part of the city government's "10-minute walk" project, which aims to give all residents access to physical exercise within a short distance.
The center has also attracted many clubs and associations for table tennis, badminton, tai chi and even chess and calligraphy.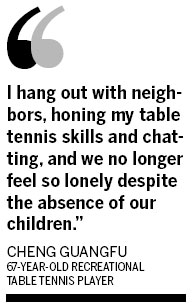 The Kunshan sports administration said it will invest more than 300 million yuan ($49 million) to set up fitness centers by 2015.
According to Min Hongwei, director of the administration, the exercise groups have become a panacea for retired people.
Despite the aging population, the sports facilities have greatly helped improve the quality of senior welfare, he said.
Kunshan has been attaching significant attention to the development of mass fitness sports, with 5,041 sports fields across the city, covering an area of 7.56 million square meters, equivalent to 4.69 square meters per capita.
"In addition to large-scale stadiums and venues, small fitness centers within walking distance are more important for residents," Min said.
The city is also stepping up the construction of swimming pools, he said.
Cheng said some of his table tennis partners, who used to suffer chronic diseases, have also witnessed a considerable physical improvement because of their exercise.
"By doing this, we have slowly helped deal with the loneliness and solitude brought about by the absence of children," Cheng said.
"I'm also considering learning calligraphy from my buddies.
"We used to do things to kill time, but now time is too short," he said.
zhengxin@chinadaily.com.cn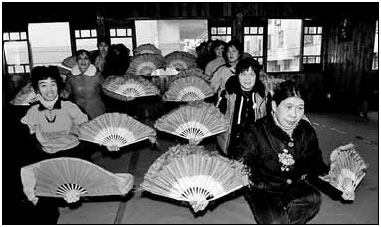 A community sports center in Jiangsu province plays a big role in helping the elderly enjoy a new life through different activities. Provided to China Daily
(China Daily 01/30/2014 page4)