On November 3, 2009, Ambow (Kunshan) Service Outsourcing Industrial Park ushered in the first anniversary of its operation. On that very day, Cisco-Ambow Network Lab was officially settled in the industrial park, making it another example of Ambow's integration of the world's IT resources for education. As Cisco's first partner in global talent transformation, Ambow will join Cisco in cultivating high-level talented people for the Huaqiao International Service Business Park and the industrial transformation in the Yangtze River Delta.
Shen Huafei, Deputy Secretary-General of the Party Working Committee and Deputy Director of the Management Council of Huaqiao Economic Development Zone, said in the opening ceremony of the laboratory: "As a center of the service outsourcing industry, Huaqiao Economic Development Zone is glad to cooperate with Cisco and Ambow in speeding up talent education in Huaqiao and thus significantly increasing the overall competitiveness of the city."
Cisco Talent Transformation program has been carried out throughout all of China, aiming to alleviate the burden of student unemployment. It is also a training program developed for Ambow to use in the education industry; Cisco-Ambow Network Lab is an important component of this program. The Lab will allow trainees to experience in person how advanced technologies are being employed by the IT industry, in order to let students leap from books to the real world.
The practical training employed by Ambow was prompted by real network programs in several enterprises, created so students could fully practice hands-on ability. The successful establishment of the Lab will further improve the training conditions and help enhance the trainees' ability of tackling problems encountered during network implementation. In the future, Ambow and Cisco will dedicate themselves to building the lab into a paradigm of e-education.
Cisco and Ambow established cooperative partnership before the set-up of the Lab. The two sides will continue to work together in the future, with focus consistent with those of the entire country. They will also place emphasis on pre-employment and sustainable career development education of graduating students, in order to cultivate more and more talents for the business park.
Integrating the world's IT resources is Ambow's goal. Besides collaborating with Cisco, Ambow has carried out close cooperation with multinationals such as HP and Microsoft as well. Their collaborations not only include technology, product and services, but also concern business models, business processes and marketing strategies, which will contribute to enhancing Ambow's capacity in providing education services and innovations.
About Cisco
Cisco Systems, Inc is the worldwide leader in networking for the Internet. It was founded in 1984 by a group of computer scientists from Stanford University. Today, networks are an essential part of business, education, government and home communications, and Cisco Internet Protocol-based (IP) networking solutions are the foundation of these networks.
Cisco hardware, software, and service offerings are used to create Internet solutions that allow individuals, companies, and countries to increase productivity, improve customer satisfaction and strengthen competitive advantage. The Cisco name has become synonymous with the Internet, as well as with the productivity improvements that Internet business solutions provide. Cisco says its vision is "to change the way people work, live, play and learn".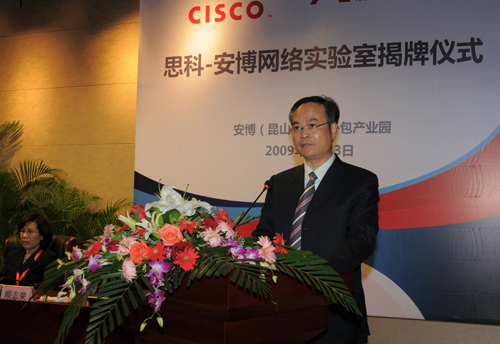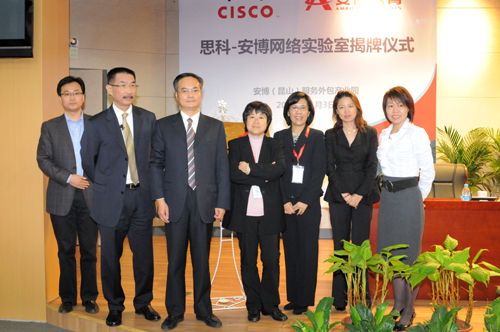 By Audrey