Capgemini CEO Paul Hermelin, accompanied by Tang Naixin, deputy director of the Huaqiao Administration Committee, met up with Chinese vice minister of Commerce Fu Ziying on Oct. 21.
The visit was an opportunity for Hermelin to brief the vice minister on Capgemini and its business operations in China.
Capgemini, a major French company, is one of the world's largest information technology, transformation and management consulting, outsourcing and professional services companies with a staff of over 91,000 operating in 36 countries.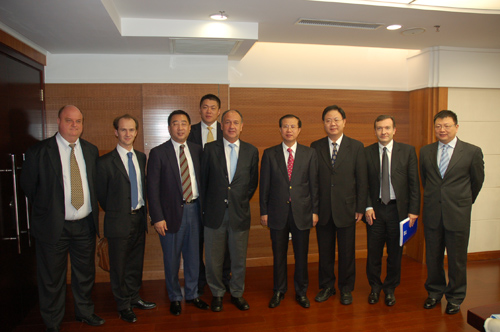 The company has set up a base in the Huaqiao International Service Park in Jiangsu province and is planning to move its China headquarters in Shanghai to the park, 25 kilometers away from Shanghai.
Hermelin said the company will expand its business in China and asked Fu for his opinion on the headquarter relocation.
Fu said Capgemini and Huaqiao have made a sound beginning in cooperation and noted Capgemini has made "a good choice in China".
He said China has huge potential in developing the service outsourcing industry as the country has a large population and over six million college graduates per year.
The Chinese government has also released various favorable policies on the development of service trade and service outsourcing, Fu added.
By Guo Changdong