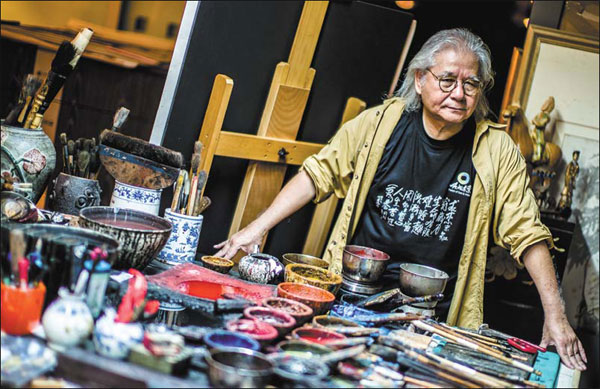 In a painting career that has spanned nearly half a century, Lin Xiangxiong composed about 1,000 paintings. Photos provided to China Daily
A painting exhibition by Singaporean
art
ist Lin Xiangxiong will open in
Beijing
at the National Art Museum of China on Sept 9.
Lin will display 99 of his best works at the exhibition, with themes ranging from natural scenery to social reality.
The show will go to Henan, Shaanxi and Shanghai later this year, and Lin will embark on a world tour next year to countries in Europe, the Americas and Oceania.
"Close to my 70s, I am starting a journey to the world from China, the motherland deep in my soul, bringing with me a new painting style that combines Chinese and Western arts, after exploring the world of art for decades," Lin wrote in an article for the exhibition tour.
"It's because the blood flowing in my body is that of the descendants of the Yan and Huang - the Red and Yellow Emperors that are known as the common ancestors of the Chinese people."
Born in Shantou, Guangdong province, the 68-year-old painter is a successful artist, entrepreneur and social activist.
He is now the special research fellow of the Chinese National Academy of Arts, special advisor to the Association of Yan and Huang Chinese Culture, and president of the Yan and Huang International Culture Association.
He is also the executive chairman of CNMC Goldmine Holdings Ltd, a Singapore-listed gold mining company.
He is the founder and chairman of the Innovation Foundation, which supports the establishment of primary schools in poor, rural areas of China as well as a number of other public welfare and culture activities.
After working in many fields, Lin said art remains his first love.