The opening ceremony of the China (Guizhou) International Alcoholic Beverage Expo on Sept 9. Photos by Zhang Wei / China Daily
China's finest liquors and beers were joined by some of the best alcoholic beverages the world has to offer at the second China (Guizhou) International Alcoholic Beverage Expo, which kicked off yesterday in Guiyang, capital of southwest China's Guizhou province.
A total of 20,000 exhibitors and traders are expected to attend over the course of the five-day event, which runs from Sept 9 to 13.
At a press conference on Sept 8, organizers announced that a total of more than 1,300 exhibitors have applied to participate, including more than 660 from overseas and nearly 700 from China. There are three times as many foreign exhibitors as last year. And some 6,100 merchants will also attend.
This year's event by far eclipses the one last year, when more than 800 Chinese and foreign companies attended the expo along with nearly 10,000 business people.
Guizhou citizens can go to banks to get free tickets to the expo, which is being held at the Guiyang International Conference and Exhibition Center.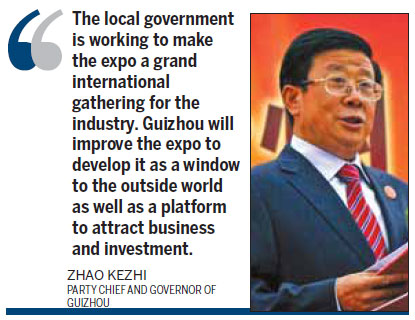 Two hundred contracts, with a combined value of 168.5 billion yuan ($26.56 billion), were signed at the opening ceremony. Moreover, a total of more than 1,900 investment projects totaling 247.6 billion yuan will be promoted during the expo. Both figures exceeded last year's numbers.
Zhao Kezhi, Party chief and governor of Guizhou, says the local government is working to make the expo a grand international gathering for the industry. He said Guizhou will improve the expo year by year to develop it as a window to the outside world as well as a platform to attract business and investment.
Exhibitors and traders include business people from 43 countries and regions, including France, the United Kingdom, Australia, New Zealand, Italy, Spain, Portugal, and the Hong Kong special administrative region.
Zhao said organizing the expo helps to raise the reputation and influence of Guizhou. It also stimulates faster and better economic development.
Shen Yiqin, vice-governor of the province, said at a press conference on Sept 8 that the theme of this year's expo is to "display great brews from around the world and promote exchange and cooperation".
Shen said local governments will work with renowned Chinese and foreign liquor and wine companies to build the expo into an internationally famous event.
Guizhou is known for producing China's famed Moutai baijiu, a type of clear Chinese liquor. But the expo also showcases other renowned liquors from around the country as well as wine, beer, whiskey and other alcoholic beverages from all over the world.
Famous brands of baijiu from other parts of the country - Wuliangye, Fenjiu, Xifengjiu, Dongjiu and Yanghe - will be exhibited in No 1 hall along with Guizhou's Moutai.
The exhibition area for this year's event has grown to 80,000 square meters, 50 percent more than last year. All countries and regions that rank among the top 10 in terms of alcoholic beverage trade with China are participating, organizers said.
The entire industrial chain is represented at the expo, including raw materials and finished products as well as packaging and related products.
Some Guizhou liquor companies promoted their products by employing people dressed in the traditional clothing of their respective ethnic groups. Guizhou has 48 ethnic groups, and many famous liquors were developed by these indigenous cultures.
A special section has been set aside for foreign wines, including some from France, Australia and New Zealand. Some brands represented at the expo are chateaus Lafite, Latour, Mouton and Margaux.
Renhuai, home to Moutai and an array of other brands of so-called sauce fragrance baijiu, held a press conference on Sept 8 to introduce its development and investment cooperation plan. Renhuai produces 80 percent of the province's sauce fragrance baijiu and accounts for 85 percent of production value.
Uyunqimg, vice-chairperson of the Standing Committee of the National People's Congress NPC, announced the opening of the expo. Bai Licheng, vice-chairman of the Chinese people's Political Consultative Conference, also attended the opening ceremony.
yejun@chinadaily.com.cn
(China Daily 09/10/2012 page18)