4 examples of Hechi's intangible cultural heritage added to national list
By (chinadaily.com.cn)
2021-04-21
Hechi has seen four more customs recommended by the Ministry of Culture and Tourism for China's fifth batch of intangible cultural heritage - the highest number of any city in Guangxi Zhuang autonomous region in 2020.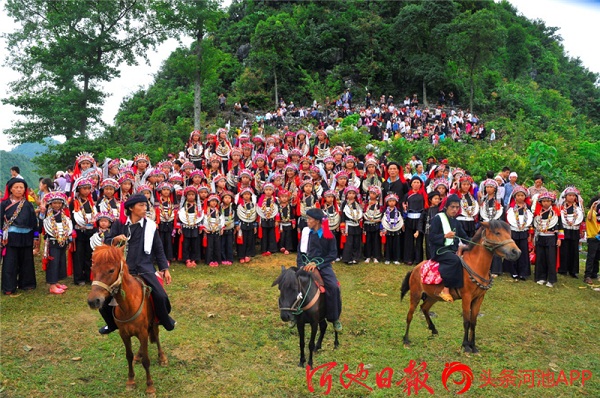 People celebrate Zhuzhu Festival. [Photo/Hechi Daily]
The four customs are the traditional Zhuzhu Festival of the Bunu Yao ethnic group in Bama Yao autonomous county; the custom of ceremonially showing respect to the elderly as kept by the people of the Zhuang ethnic group; the custom of hitting shoulder poles during the Spring Festival performed by Zhuang ethnic people from Du'an; and the ancient folk songs of the Mulam people.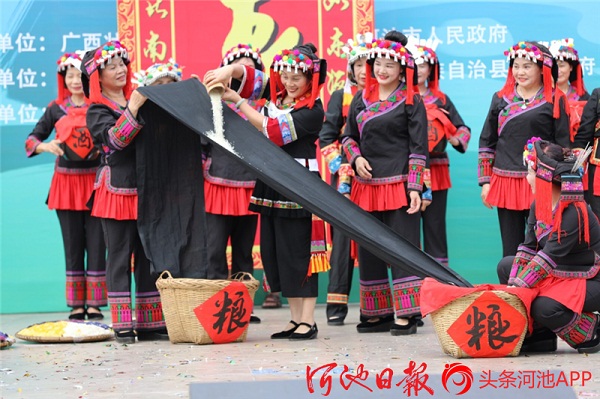 People perform a ceremonial custom of respecting the elderly, which is kept by the people of the Zhuang ethnic group. [Photo/Hechi Daily]
Covering different categories such as folk literature, traditional music, traditional sports, acrobatics, traditional skills, and folk customs, the items on this list fully demonstrate the historical and cultural diversity of Hechi and the richness of its intangible cultural heritage.