Hechi specialties popular at Guangxi agro-product fair
By (chinadaily.com.cn)
2020-12-29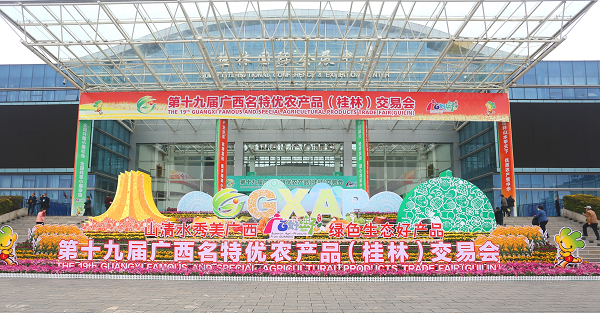 The 19th Guangxi Famous and Special Agricultural Products Trade Fair is held in Guilin, Guangxi Zhuang autonomous region from Dec 24 to 27. [Photo/nynct.gxzf.gov.cn]
Specialties of Hechi, such as silk products, beef, walnuts, selenium-rich rice, grapes, and citrus products, attracted great attention and generated good results at the 19th Guangxi Famous and Special Agricultural Products Trade Fair, which was held in Guilin from Dec 24 to 27.
In recent years, Hechi has taken the cultivation and development of poverty alleviation industries as the focus of its poverty alleviation efforts. Based on its natural conditions, resources, and industrial foundations, the city has scientifically planned and promoted 10 industries for poverty alleviation, including mulberry gardens, walnuts, fruit, camellia oleifera, sugar cane, chestnuts, freshwater ecological farming, ecology and selenium-rich agricultural products, as well as beef, sheep, and pig breeding. These industries are expected to increase the per capita income of rural residents by more than 5,000 yuan ($766.21) in 2020, ensuring that they have a sustainable source of income.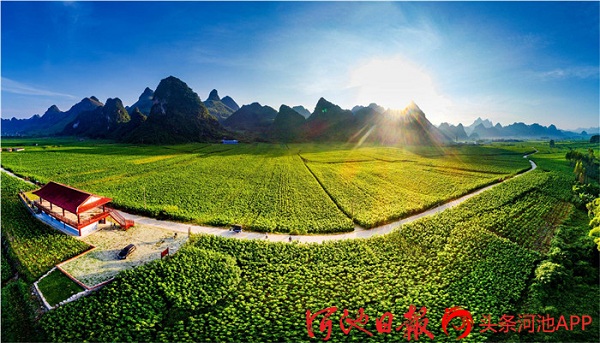 The high-quality mulberry production demonstration base in Hechi. [Photo/Hechi Daily]
The rapid development of the silkworm cocoon and silk industry is a representative example of Hechi's efforts to develop poverty alleviation industry. Hechi's silkworm industry has ranked first in the country for 15 consecutive years after years of development, with the city having been awarded the title of "Hometown of Chinese Sericulture."
In 2020, Hechi silkworm farmers and enterprises have enabled the city's mulberry cocoon and silk industry to be the first to overcome the negative impact of the novel coronavirus (COVID-19) pandemic through the production and sales of mulberry silk products, such as silk quilts. The trading volume of Hechi's mulberry silk products at the trade fair exceeded 2,000 pieces per day.