Luocheng nears goal of alleviating poverty
By (chinadaily.com.cn)
2020-11-27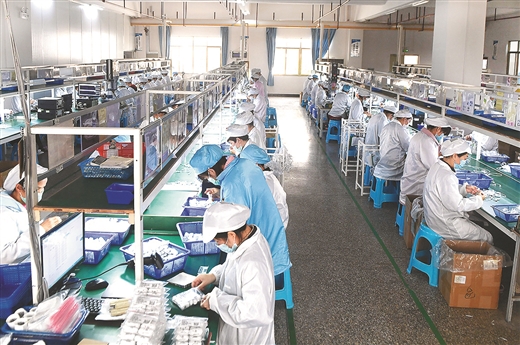 Relocated people work on the production line in a poverty alleviation workshop. [Photo by Wei Rudai/Guangxi Daily]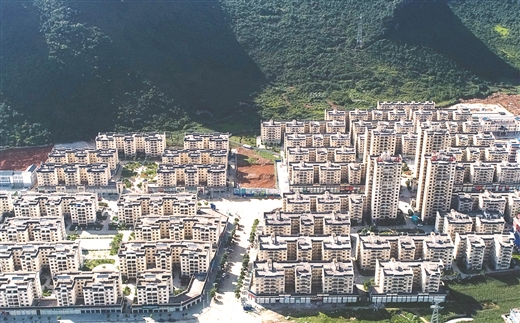 A resettlement site in Luocheng Mulao autonomous county. [Photo by Liao Guangfu/Guangxi Daily]

A downy grape planting base in Luocheng Mulao autonomous county. [Photo by Wei Rudai/Guangxi Daily]
Luocheng Mulao autonomous county in Hechi, which is one of the key counties spotlighted in national poverty alleviation and development efforts, has lifted a total of 82,000 registered impoverished people and 63 impoverished villages out of poverty from 2016 to 2019, with its poverty incidence rate dropping to 2.21 percent.
This year, 19 impoverished villages have reached the poverty alleviation standard, while 2,315 households have all reached the poverty-elimination standard. The entire county will be lifted out of poverty soon.
Luocheng has taken industrial poverty alleviation as a permanent solution to help its poverty alleviation efforts. It has implemented various industrial projects and issued policies to encourage impoverished people to develop industries, such as downy grapes, Chinese herbal medicine, camellia, fruit, sugar cane, mulberry planting, and silkworm breeding. To date, the county has established a total of 192 modern characteristic agricultural demonstration zones (parks, spots).
Luocheng has promoted e-commerce to help villagers sell agricultural products. An e-commerce industrial park was established, more than 50 e-commerce enterprises were cultivated, and a total of 137 e-commerce service stations were built, covering all villages in the county. The e-commerce platform has sold more than 80 million yuan ($12.07 million) in agricultural products, helping more than 6,000 impoverished households to increase their incomes.
Relying on its rich resources, Luocheng has developed its ecological tourism industry. It has introduced 320 million yuan of investment to develop Mianhua Tiankeng Tourist Resort, benefiting more than 1,560 impoverished people.
The county has built four resettlement sites, relocating 12,368 people of 2,876 households. It has introduced 10 enterprises to set up poverty alleviation workshops to help relocated people find jobs. Skills training has been carried out to improve the employment and entrepreneurship capabilities of the rural impoverished labor force, job fairs have been held, and village-level non-fixed poverty alleviation public welfare posts have been created.
In recent years, Luocheng has strengthened its infrastructure construction, built schools, as well as upgraded village clinics to improve production and living conditions.
The county has invested about 330 million yuan in government subsidies to renovate the dilapidated houses of 12,556 households since 2016, benefiting about 41,095 people, including 29,355 impoverished people.
Moreover, a total of 193 million yuan has been invested to implement 611 water supply projects to solve the drinking water safety problem for 182,000 people.