Bronze drum dance of the Yao ethnic group
By (chinadaily.com.cn)
2020-07-15
The bronze drum dance is popular among Bai Ku Yao, a branch of the Yao ethnic group in Guangxi Zhuang autonomous region. The dance contains many connotations, spanning the Bai Ku Yao's history, culture, folk customs, and religious beliefs.
It originated from the nature worship and the ancestral worship of the Bai Ku Yao's ancient ancestors. During the performance, a conductor dances while beating the drum with the movements mimicking the natural habits of monkeys in the natural world.
On Nov 11, 2014, the bronze drum dance of the Yao ethnic group was approved by the State Council to be listed in the fourth batch of national intangible cultural heritages.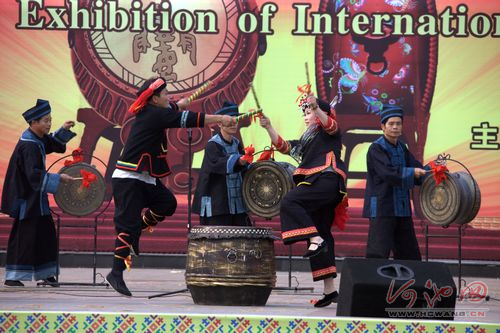 The bronze drum dance of the Yao ethnic group is performed at an international drum cultural festival. [Photo/hcwang.cn]