Liusanjie Ballad
By (chinadaily.com.cn)
2020-07-15
Liusanjie ("Third Sister Liu") refers to the legendary female folk singer of Guangxi's Zhuang ethnic group, who is renowned for her excellent singing. She is considered as the "Fairy Singer" by common people in Guangxi.
The Liusanjie ballad can be divided into seven categories, covering daily life, agricultural work, love, astronomy and geography, myths and legends, as well as moral principles.
It is not only of historical value, but also boasts research value in ethnology, anthropology, sociology, and aesthetics.
Yizhou district in Hechi was the most representative area for the Liusanjie ballad, and hence is recognized as the hometown of Liusanjie.
The Liusanjie ballad culture was included in the first batch of national intangible cultural heritages in 2006.
In recent years, Yizhou has taken actions to better protect and pass on the Liusanjie ballad.
By June 2019, Yizhou had 13 representative inheritors of the ballad, as well as formed a written record of more than 602,000 words, collected over 70 hours of audio recordings, and published 35 related books spanning six academic subjects.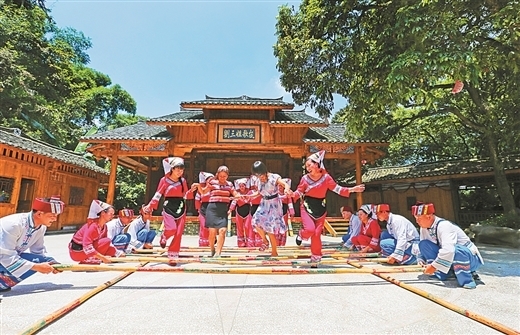 The Former Residence of Liusanjie in Yizhou district of Hechi, Guangxi Zhuang autonomous region. [Photo/gxnews.com.cn]