Zhuzhu Festival of Bunuyao Ethnic Group
By (chinadaily.com.cn)
2020-07-15
The Zhuzhu Festival is the most important traditional festival for the Bunuyao ethnic group, a branch of the Yao ethnic group living in Du'an, Dahua, and Bama counties of Hechi, Mashan, and Long'an of Nanning, as well as Pingguo of Baise in Guangxi Zhuang autonomous region.
The annual Zhuzhu Festival falls on the 29th day of the fifth month in the lunar calendar, and can be traced back to the Song Dynasty (960-1276).
It marks the beginning of a new year for the Yao ethnic group, and is held to commemorate Miluotuo, the Mother of the Yao ethnic group.
The main activity of the festival is playing copper drums, along with other traditional activities like antiphonal singing, spinning tops, horse racing, and archery.
Nowadays, the festival has become a harvest song and dance party, where people can exchange production technologies and experiences, as well as find potential partners.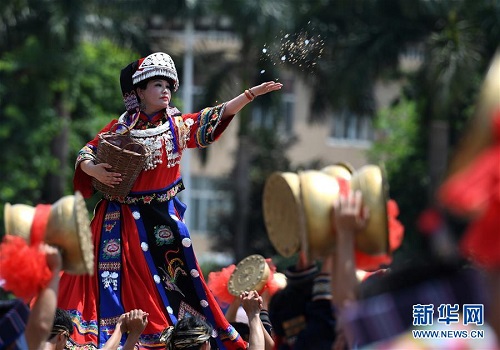 The 2018 Zhuzhu Festival of the Bunuyao ethnic group is held at Nonghe village, Dahua Yao autonomous county, Hechi in Guangxi Zhuang autonomous region on July 11, 2018. [Photo by Lu Bo'an/Xinhua]