Home
> Inheritance and Development
Bama hosts symposium on intangible cultural heritage protection
By (chinadaily.com.cn)
2020-06-15
The 2020 Guangxi Intangible Cultural Heritage Protection Forum was held in Bama Yao autonomous county, Hechi, Guangxi Zhuang autonomous region on June 11.
The forum was attended by Tang Zhengzhu, deputy director of the Guangxi Culture and Tourism Department, Cai Shandi, deputy head of Bama, leaders of cultural and tourism departments, as well as key staff members engaged in intangible cultural heritage protection in cities across Guangxi.
The forum summarized the situation of intangible cultural heritage protection in the whole region in the first half of the year and deployed the next stage of work. Representatives of cultural administration departments of cities like Nanning, Guilin, Hezhou, Hechi, Chongzuo, and Beihai shared and discussed outstanding practical cases of their work, summarized the highlights of cultural heritage protection work, as well as discussed difficulties and problems.
Tang emphasized that the main tasks of current cultural heritage protection efforts are to protect the inheritance practice, capacity, and environment, ensuring the vitality of the cultural heritages, as well as promoting their sustainable development in the current society.
Tang also noted that in the second half of the year, Guangxi will make efforts in the protection, inheritance, and utilization of cultural heritages through the aspects of traditional technology revitalization, project protection, and inheritor training.
Acclaimed performances of Bama's intangible cultural heritages were also staged at the forum.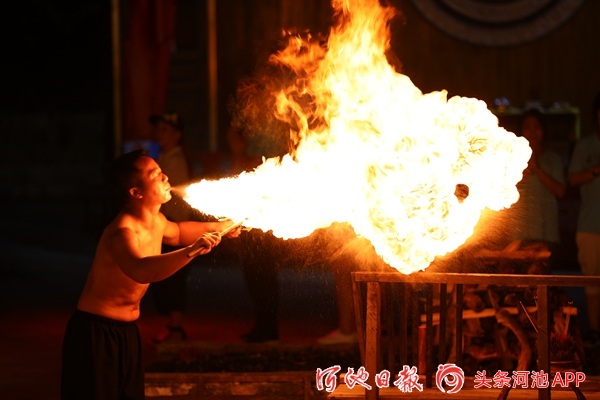 An artist performs at the 2020 Guangxi Intangible Cultural Heritage Protection Forum. [Photo/Hechi Daily]