Home
> Inheritance and Development
Nandan embroidery workshop promoted to autonomous-region level
By (chinadaily.com.cn)
2020-05-11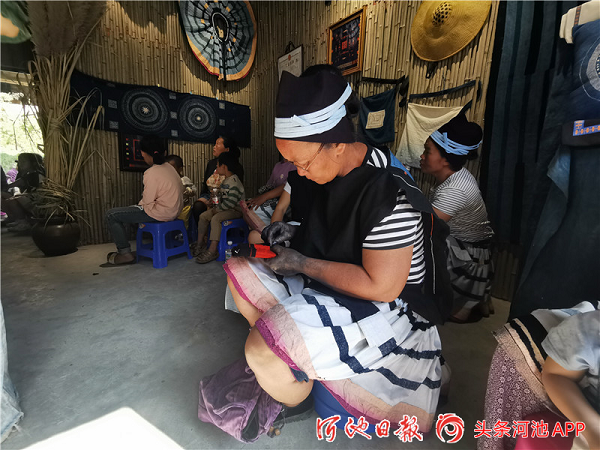 Yao female embroiderers in Duonu Embroidery Workshop in Nandan county. [Photo/Hechi Daily]
Guangxi Jinxiuqiu Home-based Employment Demonstration Base in the Duonu community of Lihu Yao township in Nandan county, Hechi, Guangxi was promoted to autonomous region-level on May 8.
The employment base aims to promote industrial development and lift women in rural areas out of poverty.
In order to help impoverished women of the Yao ethnic group, the Nandan County Women's Federation conducted the Jinxiuqiu project in 2019, establishing the Duonu Embroidery Workshop, which is the first demonstration base for home-based employment of members of the Baiku Yao ethnic group.
The embroidery workshop not only improves the original fabric technology and embroidery skills of the Baiku Yao people, but also helps Baiku Yao women in the surrounding towns get jobs through the introduction of lecturers and training courses.
Since its establishment, the embroidery workshop has trained more than 100 Yao women. It has a monthly labor force of 70 people, generating an income of more than 1.1 million yuan ($155,430), lifting more than 100 impoverished households out of poverty.
The embroidery workshop also received a support fund of 100,000 yuan from the county government at the the plate unveiling ceremony.