E-commerce, rural tourism to battle poverty in Hechi
By (chinadaily.com.cn)
2017-11-28
A promotional conference, aiming to help impoverished residents in Guangxi province find employment via a creative combination of e-commerce and rural tourism, was held in the Yizhou District of Hechi on Nov 26.
Huang Zhiguang, general manager of 58 Agricultural Services in Guangxi, shared his concept of the "intelligent countryside" with attendees. A discussion about how to expedite the development of rural tourism riding on the tides of the internet and e-commerce was held during the conference.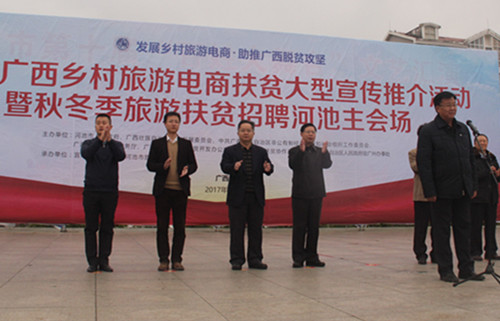 The Guangxi Rural Tourism & E-commerce Poverty Relief promotional conference is held in the Yizhou District of Hechi on Nov 26. [Photo by Li Ziyu/chinadaily.com.cn]
Guangxi, Hechi and Yizhou tourism development commissions have signed cooperative agreements with Meituan Travel, China Unicom and Tempus Wutong Investment respectively in an attempt to promote local agricultural products, tourism products and projects relying on their platforms and capital.
During the event, a rural tourism job fair posted 5,600 jobs offered by more than 30 Guangdong enterprises and 82 Yizhou enterprises for the villagers. Of the total, over 5,000 were provided by zcplan.cn, an online platform designed for job hunters to acquire targeted information via the internet.
Most popular was the trade fair attended by impoverished villages engaged in battling poverty through tourism, tourist enterprises and large-scale e-commerce enterprises across the country, with the agricultural products, discount coupons and scenic spot tickets on display creating a shopping craze among visitors.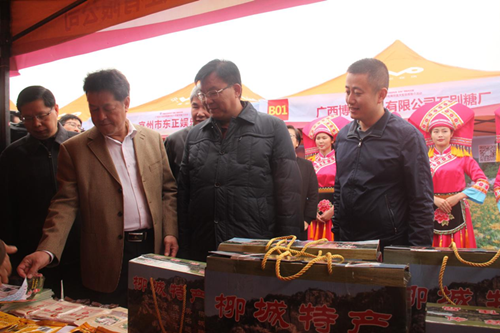 Officials talk with merchants during the event discussing local issues and specialties. [Photo by Li Muhang/chinadaily.com.cn]
A number of interactive activities were also hosted at the event, ranging from two-person balloon clamping to treasure hunts and stamp collecting. To further enhance the attraction of the games, the organizers provided winners with local featured products as small gifts such as chickens, eggs, zongzi and home-made alcohol.
Hosted by Yizhou government and Hechi Tourism Development Commission, the event has attracted more than 30,000 local residents and visitors to attend as of 6 pm on Nov 26. Fifty-one reports by mainstream media have covered the event, which have been read by 47,000 people.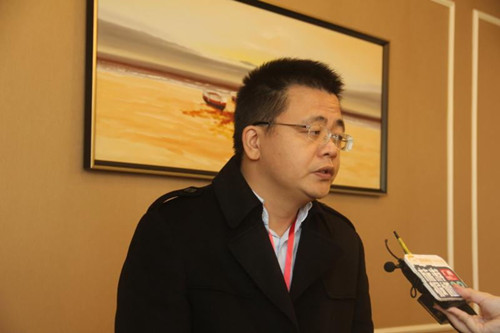 Huang Zhiguang, general manager of 58 Agricultural Services, shares his opinion on rural tourism during an interview. [Photo by Li Ziyu/chinadaily.com.cn]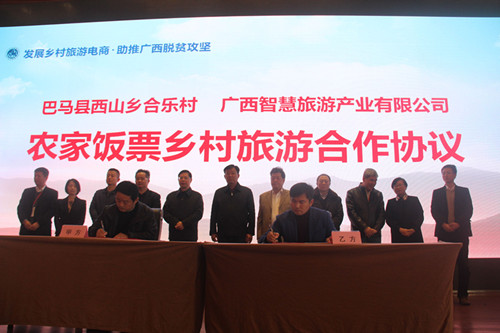 Hele village signs a cooperative agreement with Guangxi Intelligent Tourism Industry Co to develop local tourism. [Photo by Li Ziyu/chinadaily.com.cn]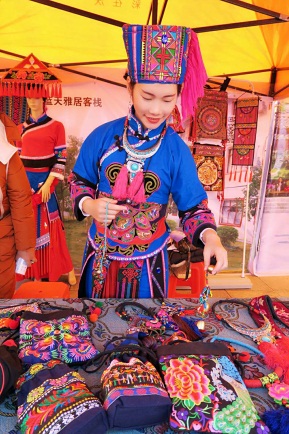 A merchant sells cloth bags with ethnic characteristics at the trade fair. [Photo by Li Ziyu/chinadaily.com.cn]