1.6m yuan relief sent to flood-damaged Hechi
By (chinadaily.com.cn)
2017-07-14
Local media has reported that 1.6 million yuan ($235,700) worth of relief materials have been sent to Jinchengjiang district, Hechi, in South China's Guangxi Zhuang autonomous region, which has been hit by continued heavy rain since June 10.
A round of heavy rain hit Hechi from early June, triggering the most serious floods on record.
Twelve towns and villages in the district were stricken by the flood, resulting in 18 collapsed homes and more than 90 local residents having to be relocated, local media reported. Some people are living under plastic tarpaulins on their roofs.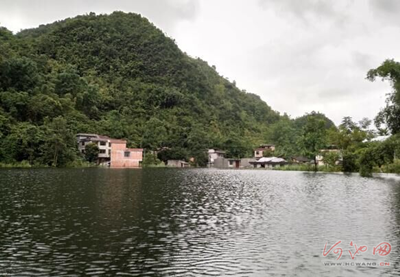 Houses in Jinchengjiang district, Hechi, are submerged after heavy rain since early June. [Photo by Mo Chunyan/Hechi Daily]
The peak water level reached an astonishing 5 meters causing people in the disaster area to travel by raft. Reports say the flood destroyed 7.47 square kilometers of farmland, with direct economic losses estimated at 274 million yuan.
After a 10-hour-long rainstorm on July 11, district leaders took a raft to do rescue and relief work, bringing rice, noodles, candles, mats, blankets and other daily supplies to people affected by the natural disaster.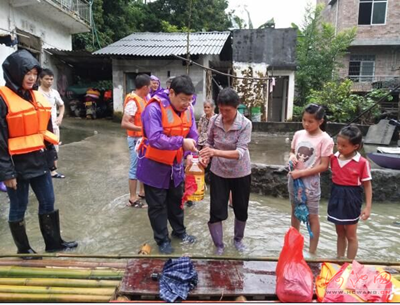 Jinchengjiang district government leaders bring relief materials to people affected by floods, Hechi, Guangxi Zhuang autonomous region, on July 11. [Photo by Mo Chunyan/Hechi Daily]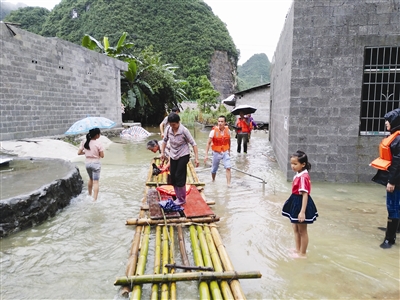 Local residents in Jinchengjiang district, Hechi, travel by raft. [Photo by Mo Chunyan/Hechi Daily]