National Mountain Bike Championship round held in Nandan
By (chinadaily.com.cn)
2017-03-22
The third round of the 2017 National Mountain Bike Championship took place in Nandan county, Hechi city of Guangxi Zhuang autonomous region, from March 11 to 12, Hechi Daily reported.
The five-stop championship represents the highest level of cycling in China, attracting 110 riders from 10 teams to Nandan.
After fierce competition, Yuan Jinwei from Yunnan and Li Yiming from Zhejiang took home first prizes in the men's adult and youth categories, respectively. Cheng Jidan from Yunnan and Yao Bianwa from Gansu, won in the women's adult and youth groups.
The National Mountain Bike Championship has been held annually since 2010, and has attracted best mountain bike riders from across China to compete.
It's the first time a round of the championship held in Nandan. Hechi's deputy mayor, Lu Haisheng, hailed the event a success and said that it had boosted the development of the sports industry in Nandan and proved the county was able to host large scale sporting fixtures.
Other rounds of the championship are held in Nanjing city of Jiangsu province, Changxing county of Zhejiang province, Dehong prefecture and Qujing city of Yunnan province.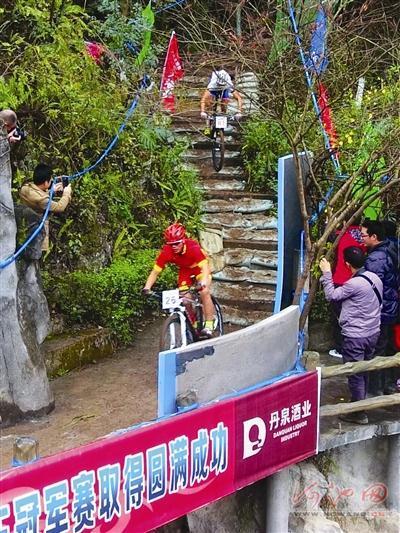 Cyclists compete during the third round of the 2017 National Mountain Bike Championship, which took place in Nandan county from March 11 to 12. [Photo/hcwang.cn]