Kuixing Tower of the 7th army of the Red Army
By (chinadaily.com.cn)
2014-08-25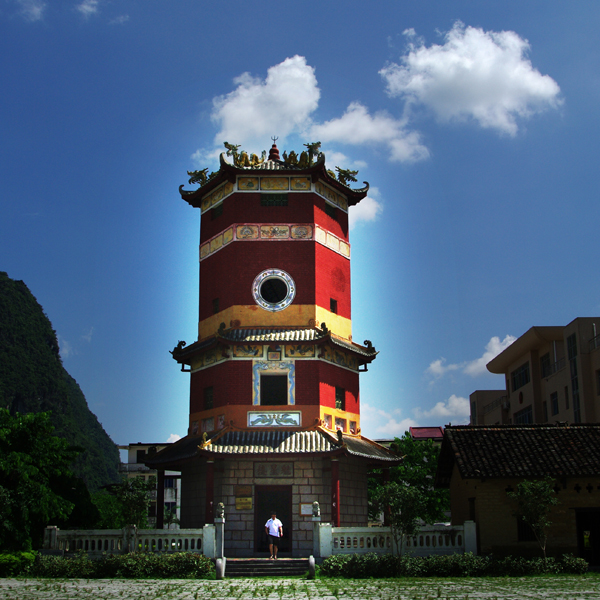 Kuixing Tower
This stands in the courtyard of the Wuzhuan township government building, 30 km to the southwest from the Donglan county. The locals back in the 32nd year of the Guangxu reign, Qing Dynasty (1906) raised the money to build the four-story, hexagonal tower of wood and stone. It is 18 meters tall and 7 meters in diameter at its widest at the base.
In 1923, when Wei Baqun raised a peasants rebellion in the county seat, he took the tower his command post. In the 1926 - 1927 period, the country revolutionary committee and peasant association of Wuzhuan, used this tower as an office. In the summer of 1930, the Front Committee of the 7th Workers and Peasants Red Army had its base here and Deng Xiaoping, the committee secretary, and Zhang Yunyi, its commander, used this tower as their office and residence. Deng also made Donglan county the center of revolutionary activities and got the people of Youjiang to join the Agrarian Revolution. In the nearby village of Jiuzhou, Deng held a training program for Communist Party cadres from the 7th army of the Red Army and the Soviet government of Donglan and Fengshan counties and Deng drafted three textbooks himself -- Policies and Slogans of the Agrarian Revolution, Organization Structure and Tasks of the Soviet Government, and Issues Related to the Party. Deng was also an instructor and gave classes.
In the village of Donglie, Wei Baqun's home, Deng set up an evening school for peasants and founded the first cooperative – the Dongli Cooperative. He joined Zhang Yunyi and Wei Baqun in holding Front Committee meetings in the tower and made the decision to "recapture Baise". At other times, Deng got Zhang Yunyi, Lei Jingtian, Wei Baqun, Chen Hongtao, Huang Daquan and others to meet in the tower to plan the revolution. The Kuixinglou Tower is therefore a landmark site of the Youjiang Revolution and an important site for revolutionary and patriotic education in the autonomous region. On Feb 26, 1963, the Guangxi government added the Tower to its list of cultural sites under regional protection, and, in 1995, it got Patriotic Education Base status for the region. In April 2011, it joined the National Scenic Spot and Scenic Zone list for Red Tourism.