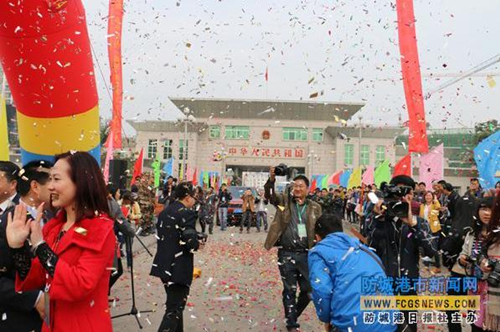 The launch ceremony site of the "Silk Road Tour" Cross-border Self-driving Activity of the 2014 China-Vietnam Border (Dongxing – Moncay) Commercial and Travel Expo [Photo by Lu Zhaozhao/fcgsnews.com]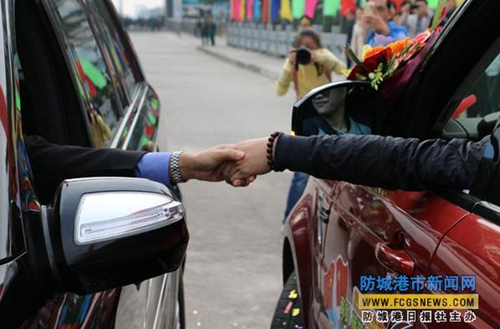 Two drivers from China (right) and Vietnam (left) shake hands on the China-Vietnam Friendship Bridge in the "Silk Road Tour" Cross-border Self-driving Activity. [Photo by Lu Zhaozhao/fcgsnews.com]
The launch ceremony of the "Silk Road Tour" Cross-border Self-driving Activity of 2014 China-Vietnam Border (Dongxing – Moncay) Commercial and Travel Expo was held at the Dongxing Port on Dec 23, 2014.
The "Silk Road Tour" was an important activity of the Expo, which aimed to accelerate the development of cross-border tourism between Dongxing and Moncay and further promote the mutual share of tourism resources and tourist sources by revealing their distinctive characteristics.
A total of 40 cars (20 from Dongxing and 20 from Moncay) formed by tourism enterprise representatives participated in the activity. They visited each other's significant tourist attractions and experienced local customs and practices within a day.
The driving route of the Chinese side was: Dongxing Port – Moncay Port – downtown of Moncay – the Catholic Church – Chagu Beach-back tracking and the driving route of the Vietnam side was: Moncay Port – Dongxing Port – Xinhua Road – ASEAN Avenue – Coastal Highway – Jingang Road – the Golden Beach – back tracking.
By Feng Lu and edited by Brian Salter