Zhanjiang ready for high-speed rail era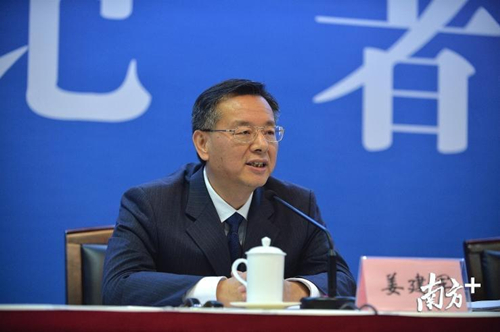 Zhanjiang Mayor Jiang Jianjun reveals that the Shenzhen-Zhanjiang High-speed Railway will come into operation on June 28. [Photo by Xiao Xiong/Nanfangplus]
When the Shenzhen-Zhanjiang High-speed Railway comes into service later this year on June 28, Zhanjiang's first high speed rail line will slash travel time to Shenzhen and Guangzhou to just three hours.
Zhanjiang Mayor Jiang Jianjun revealed these extraordinary prospects to Guangdong people at the third press conference of the 1st Session of the 12th Guangdong Provincial Committee of the Chinese People's Political Consultative Conference (CPPCC) on Jan 29.
Furthermore, Jiang added that, Zhanjiang will step up construction of traffic infrastructure so that it can be a new stimulus for city's growth and development in 2018.
Preparation for the Heyuan-Zhanjiang High-speed Railway has already been completed, while that of the Baotou-Haikou and Guangzhou-Zhanjiang dedicated passenger lines are projected to kick off later this year.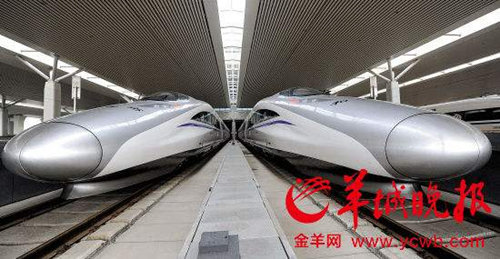 Shenzhen-Zhanjiang High-speed Railway will cut the travel time to Guangzhou and Shenzhen to within three hours. [Pho/ycwb.com]
Since the National Railway Administration envisions Zhanjiang as a significant transportation hub in its plan of making China a transportation frontrunner, the city will not just be seeing increases in passenger trains as more freight trains are likely to be added to the city's future throughput.
To realize a seamless transfer between the railway and air networks, Zhanjiang will also propel the construction of the Zhanjiang International Airport in 2018, which will be upgraded from 4C to 4E, the second-best ranking in China's five-tier airfield system.
So far, the design for the airport has already been laid down by a public tender. Once in operation, it will schedule regular domestic and international flights serving both locals and passengers from Maoming, Yangjiang and Yunfu.