Guangzhou, two hours away from Zhanjiang residents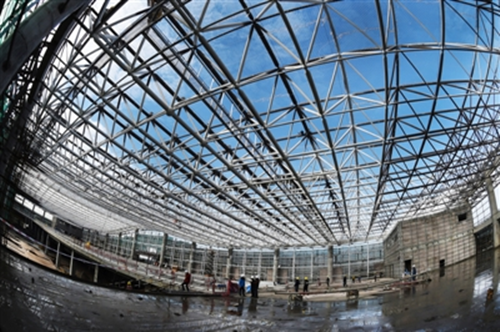 Construction of the Zhanjiang West (High-speed) Railway Station is progressing well. [Photo by Zhang Fengfeng/Zhanjiang Evening News]
Zhanjiang will push ahead the construction of the Guangzhou-Zhanjiang Passenger-Dedicated Line along with the Zhanjiang West (High-speed) Railway Station to realize a seamless connection to the Zhanjiang International Airport.
This was asserted by Xu Shun, chairman of the 13th Zhanjiang Municipal Committee of the Chinese People's Political Consultative Conference (CPPCC) during the 1st Session of the 13th Guangdong Provincial Committee of CPPCC.
At present, it take Zhanjiang residents more than eight hours by train or five hours and thirty minutes by coach to travel to Guangzhou. The other slightly faster alternative is an expensive air travel. It is safe to say that the current infrastructure cannot keep up with the city's rapid development.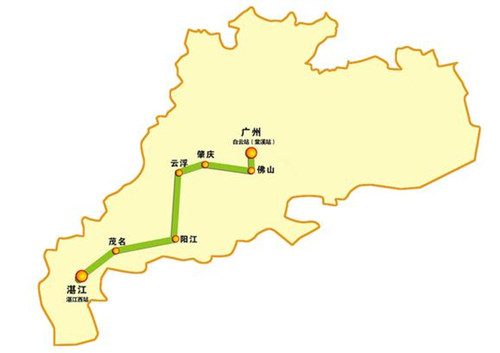 The Guangzhou-Zhanjiang Passenger-Dedicated Line will run through Guangzhou, Foshan, Zhaoqing, Yunfu, Yangjiang and Maoming before arriving at Zhanjiang. [Photo/Zhanjiang Evening News]
With an investment of 90 billion yuan ($14 billion), the 421-kilometer Guangzhou-Zhanjiang Passenger-Dedicated Line will slash travel time between the two cities to less than two hours with a designed speed of 350 kilometers per hour.
Once it comes into operation, the rail line will not only greatly relieve traffic pressure in Western Guangdong, but also further expand the economic sphere and influence of the Guangdong-Hong Kong-Macao Greater Bay Area, said Xu.
The railway has already been listed as a key project of Guangdong province, with the compilation of a feasibility research report under way. It is estimated that construction will commence in August and be completed by 2020.