Construction on Donghai Island-Leizhou Highway progressing well
Work on the Donghai Island-Leizhou Highway, which links Donghai Island with Leizhou and Fenyong New and High-Tech Development Zone in Zhanjiang, Guangdong province, is well under way.
Once in use, the current 80-minute drive from Donghai Island to Leizhou will be reduced to less than half an hour.
Costing 5.17 billion yuan ($783.33 million), the dual four-lane (six lanes in some sections) highway has a length of 47.03 kilometers and a designed speed of 100 kph on its arteries.
The construction, which started in September 2015, is expected to be completed by the end of 2019.
As part of the project, the 5,755-meter Tongming Haite Bridge, will be the longest sea bridge in Zhanjiang upon completion, according to project head, Chen Qinghua.
A 3,660-meter steel trestle, which serves as a main part of the bridge, was completed in May 2017. The workers used advanced rotary drilling rigs for the pile foundation, saving more than 15 days on the whole project.
About one fourth of the project has already been finished with all the sections to be connected by the middle of 2019. In order to finish the project on schedule, more than 1,200 people are working across three shifts per day.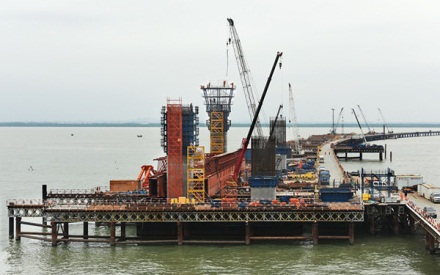 Construction on the Tongming Haite Bridge is progressing well. [Photo by Li Zhong, Zhou Jingdian/Zhanjiang Daily]