Zhanjiang opens largest medical institution in Guangdong
The new Central People's Hospital of Zhanjiang, the largest medical institution in Guangdong province, opened its door recently, replacing its 80-year-old predecessor.
The construction of the giant facility has come to represent the epitome of Zhanjiang's achievements in implementing China's health strategy, with the project getting off to a strong start receiving 103 million yuan ($16 million) in donations at a charity dinner in 2011.
That, added to investment from the government, enabled the project to start construction in December 2012.
Upon completion, the site covers 216 mu (14.4 hectares), and is equipped with 2,000 beds, over 1,100 advanced medical devices and a parking lot capable of accommodating 3,000 cars. Since opening, the hospital performs 100 operations daily, twice as much as the facility it replaces.

Covering 216 mu, the new Central People's Hospital of Zhanjiang is the biggest medical institution in Guangdong province. [Photo/Zhanjiang Daily]
In less than a month since opening, patient numbers and processing has soared.
At the same time, Zhanjiang No 1 Hospital of Traditional Chinese Medicine will move to the former site of the Central People's Hospital. Aiming to turn itself into a 3A-grade hospital with Lingnan characteristics, it will spend 170 million yuan on the upgrading and transformation of the old buildings and facilities.
To provide women and children with a commodious and well-connected medical environment, the government earmarked a 72.4-mu construction area worth about 300 million yuan in prime location to build a maternal and child health center. The whole project entails an investment of 580 million yuan.
Currently, there are 3,487 medical institutions in Zhanjiang, accounting for 7.2 percent of the total in Guangdong province. The hospitals received 33.9 million patients in 2016, the highest number in eastern, western and northern Guangdong.
The city will invest 16.5 billion yuan in medical and health fields in the next two years, which involves 1,567 infrastructure projects at both municipal and grassroots levels. Alongside will be the training and hiring of 950 general practitioners, 10,000 assistant physicians and 14,000 nurses as well as 18,000 beds to be added.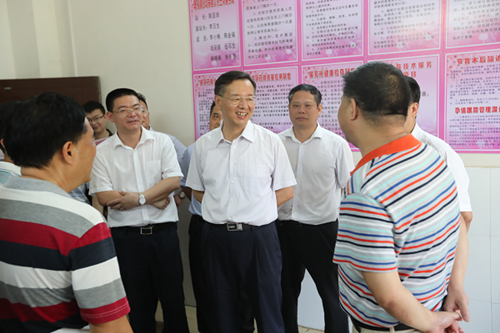 Jiang Jianjun (C), mayor of Zhanjiang, inspects a grassroots health center in Wuchuan. [Photo/Zhanjiang Daily]