First wetland park built in Wuchuan
(chinadaily.com.cn) Updated: 2017-11-13
Construction on the Shuikoudu Wetland Park, the first of its kind in Wuchuan, has been completed.
Covering about 100 mu (6.7 hectares), the park lies to the west of Shuikoudu Bridge. While preserving the original landform, the park features landscape forests, greenbelts, footpaths and pavilions.
Planned are seven functional zones including Entrance Square, Artistic Garden, Recreational Square, Children's Activity Center, Sightseeing Service Station and River-View Pavilion.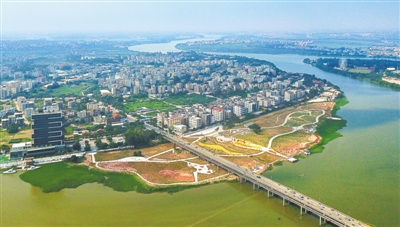 An aerial view shows Shuikoudu Wetland Park, the first of its kind in Wuchuan. [Photo by Lang Shuchen/Zhanjiang Daily]