Zhanjiang's air quality ranks top in Q3
(chinadaily.com.cn) Updated: 2017-10-20
Zhanjiang's air quality ranked first among Guangdong cities in the third quarter of 2017, it was announced by Department of Environmental Protection of Guangdong Province on Oct 18.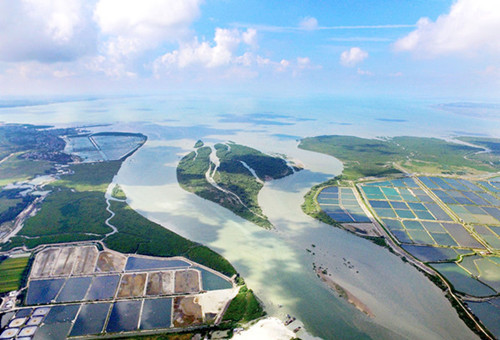 Zhanjiang's air quality ranks first among Guangdong cities in the third quarter of 2017. [Photo by Liu Jicheng, Wu Zhiheng/Zhanjiang Daily]
The city's average concentration of PM 2.5 in the third quarter was down to 16 mcg per cubic meter, while that of PM10 was 27 mcg per cubic meter. From 2014 to 2016, it recorded a ratio of days with fine air quality up to 94.9, 94.2 and 97.3 percent respectively.
Such prominent achievements are the best evidence of Zhanjiang's efforts to control pollution and protect the environment. During the 12th Five-Year Plan period (2011-15), the city has shut down 22 mechanical shaft kilns for cement manufacturing and phased out redundant industrial capacities in papermaking and dyeing.
A further decline on the concentration of sulfur dioxide, nitrogen oxide and dust has been achieved with the transformation of five large-scale coal-fired power units since 2016. Meanwhile, the restricted zone for high-polluted fuel in Zhanjiang has been expanded to 186 square kilometers.
While encouraging the use of new energy vehicles in the city, Zhuhai has reinforced the regulations on "yellow label cars" - heavy-polluting vehicles – in the city. So far, a total of 53,000 yellow label and outmoded cars have been taken off the road.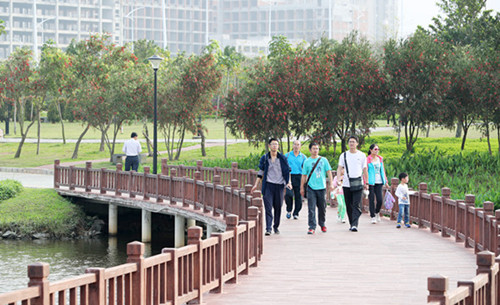 Local residents enjoy the beautiful natural scenery at Haibin Park. [Photo by Liu Jicheng, Wu Zhiheng/Zhanjiang Daily]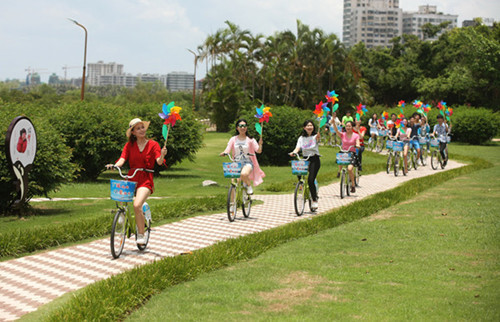 Young people take a bike trip in the fine weather. [Photo by Liu Jicheng, Wu Zhiheng/Zhanjiang Daily]