Zhanjiang-Vietnam/Thailand shipping route opens
Zhanjiang Port opened a new shipping route to Thailand via Vietnam on July 10, aiming to provide more efficient non-stop transportation services for the Association of Southeast Asian Nations (ASEAN) market.
The route will use two container vessels to transport weekly shipments, each capable of carrying 714 containers.
The new shipping line will arrive at Zhanjiang Port each Friday, and has cut the travel time between Zhanjiang and Thailand to just four days.
It is a move jointly carried out by Zhanjiang Port Group and Antong Holdings to serve China's Belt and Road Initiative and improve logistics services for further trade exchanges between Zhanjiang and ASEAN.
According to a project leader, the maiden trip will bring back imported seasonal fruits such as coconuts, durians and mangosteens. Zhanjiang's traditional products will "go out" by ship, which include aquatic products, small household appliances, and cane sugar.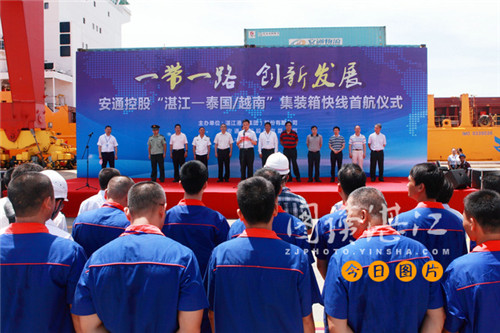 The Zhanjiang-Vietnam/Thailand shipping route comes into operation at the Baoman Container Wharf in Zhanjiang Port on July 10. [Photo by Wang Zexin/yinsha.com]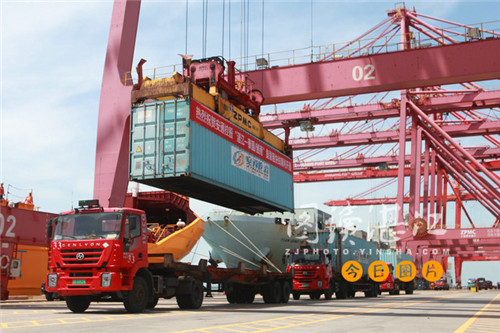 Cranes lift containers from trucks to load aboard a ship awaiting its maiden voyage to Thailand on July 10. [Photo by Wang Zexin/yinsha.com]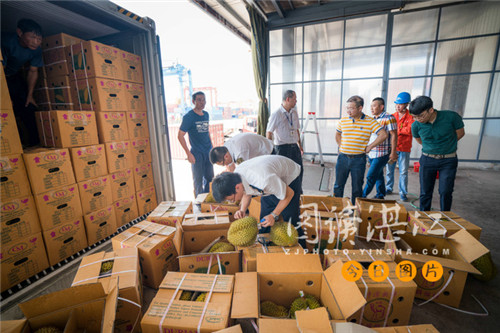 Seasonal fruits from Thailand and Vietnam are to be transported back to Zhanjiang via the new shipping line. [Photo by Wang Mosha/yinsha.com]