Petrochemical complex construction underway in Zhanjiang
The construction of a 35.42 billion yuan ($5.1 billion) Sino-Kuwait refinery and petrochemical project, the largest joint venture of its kind in China, is currently in full swing in Zhanjiang, Guangdong province.
The project is scheduled to be completed in 2020, and is being built and operated by China's flagship petrochemical enterprise Sinopec and Kuwait National Petroleum Co.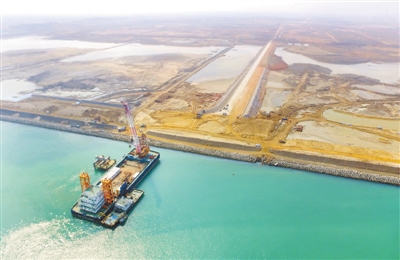 A ship unloads piles and caissons on March 16 at the construction site for the Sino-Kuwait refinery's heavy cargo wharf. [Photo/Zhanjiang Daily]
Located on Donghai Island, the 6-square-kilometer complex will be able to process 10 million metric tons of crude oil and produce 800,000 tons of ethylene annually upon completion of its first construction phase.
According to project engineer Li Xiangdong, the construction process of different sections is highly varied, with the fastest undertaking being base slab concreting. More efforts have been put forward on the pavement of drainage channels, totaling 118 kilometers in length.
"Ordinary roads or bridges cannot bear petrochemical storage tanks and other equipment weighing over 100 tons, so we are also constructing a new heavy cargo wharf," said Chen Zixiang, assistant manager of the construction department on the project.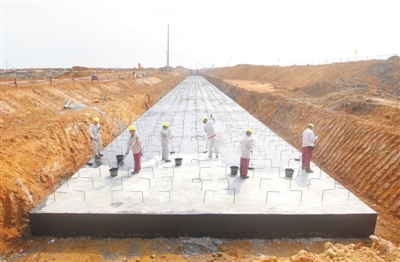 Workers construct a concrete base for the Sino-Kuwait refinery and petrochemical project on March 16. [Photo/Zhanjiang Daily]
With the site being leveled, hydraulic reclamation and drainage channels of north section are expected to be completed, while the oil refining infrastructures and ethylene processing devices will begin construction later this year.