Coastal city plots course to become key provincial economy
By Xu Jingxi(China Daily) Updated: 2017-01-24
Zhanjiang in Guangdong province has all the necessary attributes to become the economic center of the province's western region, leading officials from Guangdong's provincial government told the fifth session of the 12th provincial people's congress on Friday.
The coastal city holds an important position in the provincial government's plan to balance development between the Pearl River Delta and the less-developed eastern, western and northern regions of Guangdong, the officials said.
On Friday, Ma Xingrui, then acting governor of Guangdong, listened to Zhanjiang delegates' feedback on a government work report he delivered at the session held in Guangzhou on Thursday.
"Zhanjiang has an edge over other cities in western Guangdong and, as a result of this, it can rapidly rise to become the province's economic center," Ma pointed out.
Located at the border between Guangdong and the Guangxi Zhuang autonomous region, and facing Hainan province to the south, Zhanjiang's natural advantages are amplified by its geographical position and labor resources, Ma said.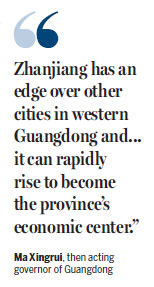 He added that two large-scale industrial projects - Baosteel Zhanjiang Iron & Steel Co and the Sino-Kuwaiti refinery and petrochemical complex - have located on Donghai Island in the southeast part of Zhanjiang's urban area.
"Zhanjiang's government should be daring enough to try new ventures and make breakthroughs to contribute more to the revitalization of eastern, western and northern Guangdong," Ma said.
In 2013, the Guangdong government decided to make efforts to balance the development between the Pearl River Delta and eastern, western and northern Guangdong a province-wide task. Transportation, industrialization and urbanization were identified as areas of priority.
The provincial government's work report emphasizes that "maintaining mid- and high-speed economic growth" is the most important task in 2017. To stabilize growth and ensure balance, Guangdong will invest 540 billion yuan ($78.6 billion) in key projects, especially those focusing on infrastructure construction. Investment in infrastructure is set to increase by at least 10 percent in 2017, speeding up the development of rapid transit networks, water conservation projects, information infrastructure, environmental protection infrastructure, energy projects and public services, Ma said.
The relocation of Zhanjiang airport and the construction of a roll on, roll of facility at the Nanshan work zone in Zhanjiang's Xuwen Port are on the list of key projects highlighted in the government work report.
Zhanjiang's development and reform bureau revealed on Friday that the airport relocation is expected to kick of construction in the second half of this year.
The 4.3 billion yuan new airport is expected to have a passenger throughput of 4.2 million people in 2025, among which 200,000 are expected to be foreign travelers.
Construction on the Xuwen Port project is on track to be completed by 2018. The port will connect shipping cargo directly with highways, railways and inland waterways.
Zhanjiang's 11th Party congress, held from Dec 8 to 10, drew up a five-year blueprint for future development.
The goal for the average annual growth of the city's GDP is about 10 percent, with the gross value of industrial output increasing by at least 13 percent on average annually.
Wang Zhongbing, mayor of Zhanjiang, is confident that the city can maintain its impressive growth momentum.
"Zhanjiang has rich marine resources and the city hopes to receive provincial government support for expanding offshore wind power, developing yacht tourism in cooperation with Hong Kong and Macao, and building an economic belt along the Qiongzhou Strait in cooperation with Hainan," Wang said.
Blueprint sets out growth goals
Zhanjiang's 11th Party congress, held from Dec 8 to 10, devised a five-year blueprint for future development. The blueprint included the following seven major goals:
Economic strength Zhanjiang's GDP is projected to report an average annual growth rate of around 10 percent over the next five years from 2017 onwards, with the gross value of industrial output increasing by at least 13 percent annually on average.
The target average annual growth of fixed assets investment, the general public budget revenue and the per capita disposable income of residents, are all set at 10 percent.
Convenient transport
The length of highways will be doubled. A high-speed rail network and a new airport will go into operation. Road networks will be built around both the bay and the urban area.
Main arterial roads will connect all important towns, and, in smaller villages, cement roads will replace existing mud ones.
Beautiful landscape
Urbanization will continue to expand but, at the same time, measures will be implemented to ensure that the city continues to enjoy some of the best air quality in the country.
Drive for growth
There will be active participation in the Belt and Road Initiative and the promotion of mass entrepreneurship and innovation.
Social governance
The city will continue to practice the rule of law and improve public security. Core socialist values will be promoted among the public with the aim of building Zhanjiang into a "national civilized city".
Improved life quality
Poverty alleviation and the building of a moderately well-off society in all aspects will both be prioritized. Social security and public service systems will also be improved to give people a better quality of life.
Political ecosystem Party discipline will be strengthened and clear guidelines will be established so that Party members can work with "passion, in good conditions, and with a sense of responsibility and boldness to make breakthroughs".
xujingxi@chinadaily.com.cn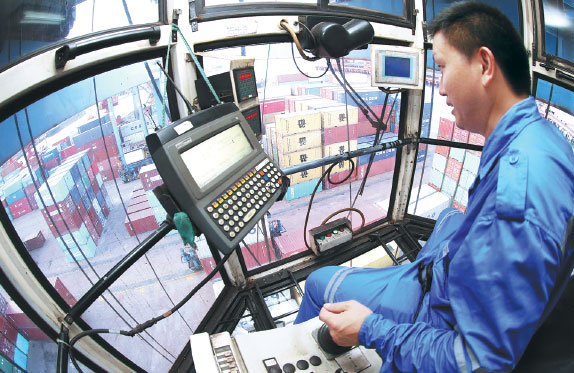 A worker operates a crane to lift containers at Zhanjiang Port in Guangdong province. Provided To China Daily