Zhanjiang moves step closer to becoming Guangdong's youth soccer hub
The coastal Guangdong city of Zhanjiang took a significant step forward to developing itself as a soccer hotspot.
According to the city's education bureau, 26 local primary and middle schools were listed as national-level schools with soccer characteristics last year, out of a total of 8,627 schools that were approved in the country.
Zhanjiang ranks in the top five in terms of the number of schools recognized for their excellence in soccer training. Foshan ranks the first, with 52 schools; while Guangzhou has 39; Huizhou, 32; and Jieyang, 30.
Wuchuan county had 11 schools listed last year, the highest amount among counties in Zhanjiang.
Zhanjiang was listed as one of five key cities for soccer development in Guangdong in 2013. Since then, local authorities have made a concerted effort to develop the sport.
The city has organized the youth campus soccer league for the last three years, while in 2014, it hosted the inaugural women youth match and a high school youth match in 2015.
This year, the city will host its fourth youth campus soccer league and its inaugural youth soccer league. Authorities hope the two events will spread soccer culture to a wider audience across the city, according to Zhu Lu, director of the city's sports bureau.
Zhanjiang has prepared 16 primary and middle schools to apply for the 2016 national-level schools with soccer characteristics, many of which are located in towns and villages.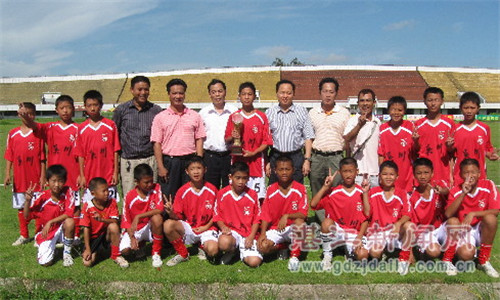 Young soccer players from Zhanjiang's Wuchuan county take a group photo with the county's sports bureau officials after winning the Guangdong U-11 Youth Soccer Championships in 2009. [Photo/gdzjdaily.com.cn]