Lingnan Folk Culture Festival opens in Zhanjiang
By Xu Lili Updated: 2015-09-24
The Third Lingnan Folk Culture Festival opened at Cunjinqiao Park in Zhanjiang, South China's Guangdong province on Sept 24, and will last until Sept 27.
It's the first time for such a festival to be held in a city other than the provincial capital in Guangdong province.
A series of Guangdong folk cultural performances including lion dance, tea-picking dance and Helou dance (an ancient dance of the Zhuang People to celebrate harvest and pray for good weather) thoroughly pleased visitors at the opening ceremony.
All kinds of art forms at the festival help people have a deep understanding of Guangdong's rich history and culture.
Zhanjiang's local traditional folk arts such as Nuo dance, human dragon dance, Lei Opera and Wuchuan folk songs were also showcased at the opening ceremony.
The highlight of this event will be a colorful lantern show during the Mid-Autumn Festival, which falls on Sept 27 this year. More than 150 lanterns in various colors, patterns and styles will be on display.
The lantern show will be the largest ever in Zhanjiang with an exceptional variety of lanterns.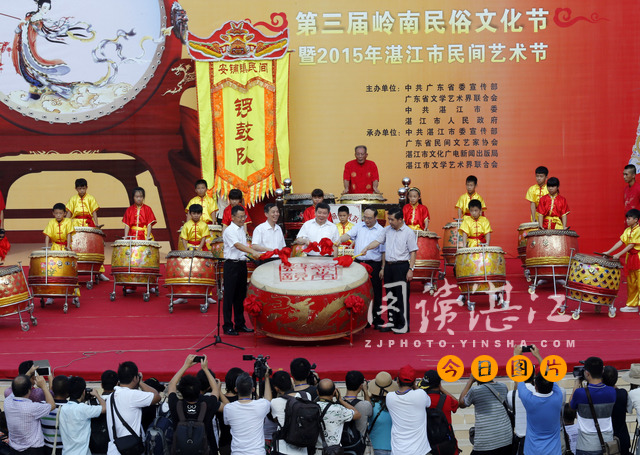 Officials beat a drum to mark the beginning of the Third Lingnan Folk Culture Festival in Zhanjiang on Sept 24. [Photo by Huang Guandi/yinsha.com]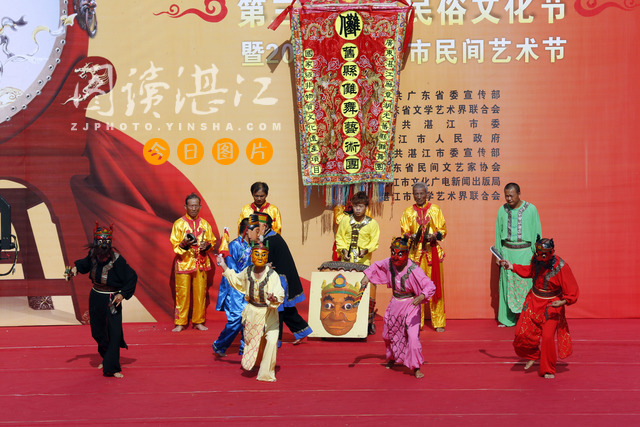 Zhanjiang Nuo dance is performed at the opening ceremony of the Third Lingnan Folk Culture Festival on Sept 24. [Photo by Huang Guandi/yinsha.com]