Zhanjiang Aquatic Sports Center: City's new landmark
By Xu Lili Updated: 2015-09-22
Zhanjiang Aquatic Sports Center, located at the Jinsha Bay Sea-view Corridor in Chikan district, with Haibin Avenue to the west, Zhanjiang Bay to the east and Zhanjiang Olympic Sports Center just across the compound, has become a new landmark in Zhanjiang.
As an international level water sports facility, it hosted the aquatic competitions of the 14th Guangdong Provincial Games including the sailing and sailboard events.
After the Provincial Games, the sports center became a good place for residents to spend their leisure time, whether by taking a walk, doing morning exercises, going fishing or flying kites.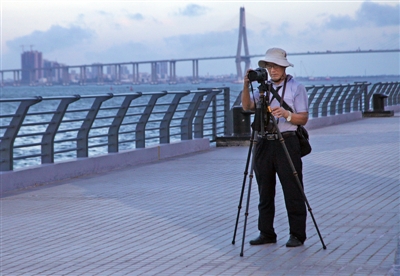 An amateur photographer captures beautiful scenery at the Zhanjiang Aquatic Sports Center. [Photo/Zhanjiang Evening News]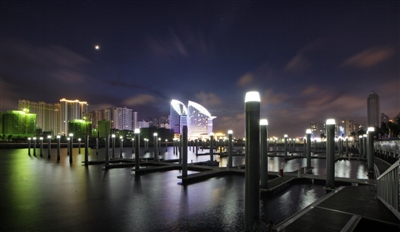 Night view of the Zhanjiang Aquatic Sports Center [Photo/Zhanjiang Evening News]