Tea tourism expo attracts visitors in Zhanjiang
By Xu Lili Updated: 2015-09-21
The 2015 Guangdong (Zhanjiang) Tea Tourism Expo opened at the Zhanjiang International Convention and Exhibition Center on Sept 18, and will last until Sept 22.
All kinds of tea products including Oolong, black tea, green tea and flower tea were on display at the main exhibition area.
Some brand name tea companies offered free tastings, and some tea masters attracted visitors by demonstrating how to make tea.
There was also an exhibition area displaying redwood furniture, root carving, and paintings and calligraphy works.
Visitors to the expo can enjoy one-stop shopping at reasonable prices.
The five-day event, sponsored by the Zhanjiang Tourism Bureau and the Zhanjiang Agriculture Bureau, aims to promote integration and development of the city's tea, coastal tourism and culture industries.
It is an important part of the campaign to promote "2015 Zhanjiang Ocean Week".
The tea tourism expo has been held each year since 2009 and has become an influential event in Zhanjiang and even in western Guangdong province.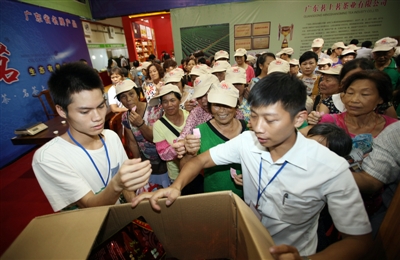 Visitors flock to the exhibition area during the tea tourism expo in Zhanjiang on Sept 20. [Photo/Zhanjiang Daily]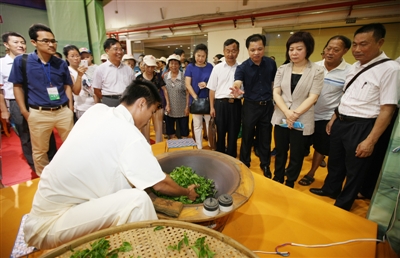 A tea master shows how to fry tea by hand during the tea tourism expo in Zhanjiang on Sept 20. [Photo/Zhanjiang Daily]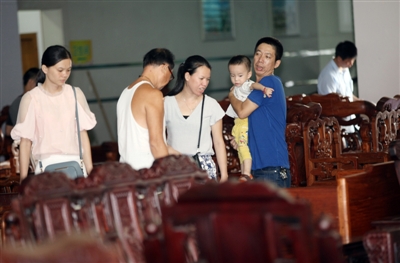 Redwood furniture is on display during the tea tourism expo in Zhanjiang on Sept 20. [Photo/Zhanjiang Daily]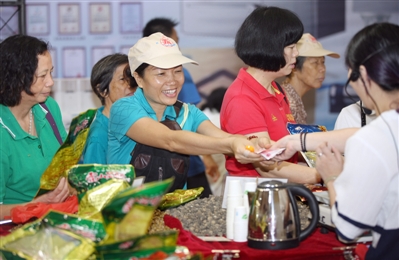 Visitors buy tea products at reasonable prices during the tea tourism expo in Zhanjiang on Sept 20. [Photo/Zhanjiang Daily]
Edited by Peter Nordlinger