Zhanjiang to focus on developing port industries
By Cao Xiating Updated: 2015-02-10
Zhanjiang will take full advantage of its geographical superiority as a coastal city and vigorously develop port industries to rise again as a pivotal city on the 21st Century Marine Silk Road.
Speed up port industry development
At the press conference held on February 9 by the Zhanjiang delegation during the annual session of the Guangdong Provincial People's Congress, Zhanjiang Party secretary Liu Xiaohua told reporters that Zhanjiang will focus on the development of five major port industries including the iron and steel industry, the petro-chemical industry, the paper industry, the logistics industry and the tourism industry.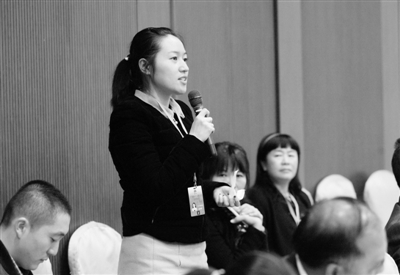 A journalist raises questions to the Zhanjiang delegation at the press conference during the annual session of the Guangdong Provincial People's Congress on February 9.
"Zhanjiang is a marine city, and it has been prosperous and beautiful due to the blue sea, so it will strive to become more powerful by utilizing its marine resources," Liu said.
The iron and steel industry plays a key role in driving the city's development, as the BaoSteel Group planned to invest a total of 41.5 billion yuan (about 6.63 billion dollars) in the Zhanjiang steel project, one of the two largest steel project in China.
Wang Zhongbing, mayor of Zhanjiang city, told reporters that 12 billion yuan had been invested in the steel project last year, with the construction of major factory buildings completed and the installation of relevant facilities started already. The steel base construction was expected to complete in 2016, Wang said.
In addition, a bonded logistics center has been authorized by the central government to be established in Zhanjiang, which will greatly boost the development of the logistics industry.
Liu Xiaohua also said Zhanjiang will develop five "new" industries including new marine industry, new energy, new materials, new electronics and new biomedical industry, to drive the city's industry transformation and upgrading by innovation.