On February 21, Zheng Zhijie, President of China Development Bank, arrived at the jobsite of President Nestor Kirchner and Governor Jorge Cepernic Project (NK/JC Project) in Argentina undertaken by CGGC on an investigation visit, accompanied by Ren Jianguo, Party Standing Committee Member and Vice President of CGGC, Chen Gang, Chairman of CGGC's No.1 Engineering Company and Lyu Zexiang, President of CGGC International.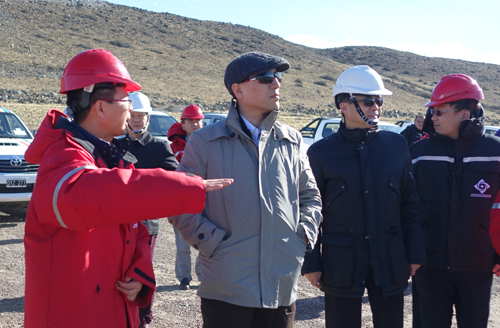 Zheng Zhijie (the Second from Left in the Front Row) investigates the jobsite of NK/JC Project
Zheng Zhijie and his party inspected various aspects of NK/JC Project condition on the spot inclusive of the construction schedule, campsite building, equipment procurement, procurement of labor service and security guarantee, debriefing the project progress and the working plan in next stage in detail.
President Zheng Zhijie pointed out that NK/JC Project, as the largest hydropower project under construction all over around Argentina, followed the financing agreement signed by leaders of both nations and would contribute far-reaching influence on the social and economic development of Argentina by remarkably enhancing Argentine energy structure. China Development Bank would continue supporting this project in an endeavor to fulfill the NK/JC Hydropower Station as soon as possible together with the Chinese-Argentine Consortia.