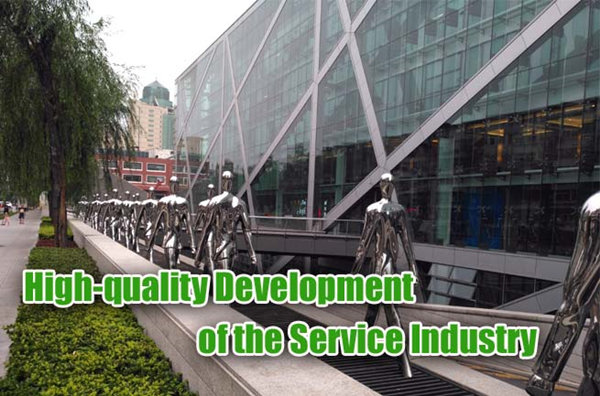 By Liu Tao, DRC
2018-8-13
Against the backdrop of slowing down and steady economic growth in recent years, China's service industry has maintained a high-speed development. As China's economy changes from high-speed growth to high-quality growth, while the service industry expands in scale, it is more urgent to add the "value" to it and realize the improvement of quality and efficiency in its development. Generally speaking, the quality of service industry development can be judged from four aspects: first, whether the service industry structure has been optimized; second, whether the driver of service industry has been transformed; third, whether the efficiency of service industry has been improved; fourth, whether the enterprises in service industry are strong.
1.Talents training and effective encouragement need to be promoted. Talents are the core resources of the service industry, especially the asset-light service industry. The talents structure of China's service industry has been improved in recent years, but it should also be noted that China's service industry still has a large demand for high-level and high-skilled talents, and the change of talent demand caused by industrial upgrading does not match the talent training. In this regard, investment in human capital in the service industry should be further strengthened. More element resources should be used to motivate talents. The innovative personnel training mode of integrating production and education, combining engineering and learning as well as school-company cooperation should be advocated to facilitate the orderly and free flow of talents in education, science and technology, medical treatment and other fields.
2. Industrial division of labor need to be deepened and integrated. This is an important pathway for the high-quality development of the service industry. Driven by "replacing the business tax with a value-added tax" and some other market factors, in recent years, many manufacturing enterprises have opened business which was originally self-sufficient production service, and some service enterprises have received more business outsourcing from manufacturing enterprises, which has expedited the professional labor division. Business fission of platform enterprises has also spawned a number of influential enterprises which have grown into new impetus driving the development of Internet finance, E-commerce, cloud service and other industries. At the same time, service innovation keeps emerging, deepening the integration of service industry and other industries.
3. Market access and regulatory system should be improved. A fair, standard and efficient market access and regulatory system is the basic guarantee for the high-quality development of the service industry. We will give full play to the leading role of the market access negative list system reform, revise outdated laws, regulations and normative documents, implement the promised approach to market access, press ahead "certificate reduction after license issuance" and improve the transparency and predictability of examination and approval. New business forms and new modes of the service industry at different developing stages should be classified and refined. A dynamic regulatory mechanism guided by service quality should be established. Relevant laws and regulations on price management, prevention and suppression of monopolistic practices should be further improved. The reform of the corporate credit supervision system should be accelerated. In addition, the reform of government institutions should be taken as an opportunity to achieve the rebuilding of the regulatory process within each department and coordinated supervision among different departments, improve the effective multi-governance pattern, strengthen the data cooperation and connection with platform-type enterprises, open up the whole process data and make full use of it to realise the regulatory efficiency.
4. Coordinated development of the service industry and service trade should be promoted. In the context of opening up, the service industry is the industrial foundation for the development of the service trade, which provides greater market space and more elements for the development of the service industry. The coordinated development of the two is a key measure for the high-quality development of the service industry. We need to clarify major areas and key measures to further open up trade in services, implement the newly revised negative list for foreign investment to push forward the domestic reform of related systems and mechanisms. We should take an objective and rational look at the current service trade deficit, properly expand the import of emerging services, give full play to the spillover effect of technology and knowledge, and improve the supply structure of domestic service industries. It is necessary to improve the construction quality of pilot free trade zones, and promote pilot experience in trade facilitation, investment system form, and on-going and subsequent supervision. We will vigorously promote the development of service trade in existent business modes, innovate new forms and modes of trade, cultivate competitive edges in quality, and increase value contribution to China's GDP. We will strengthen guidance for enterprises in service sector to "go global", improve services in relevant foreign currency exchange management, personnel entry and exit, financial support and overseas investment, and strengthen effective coordination with Chinese manufacturers in the process of"going global."