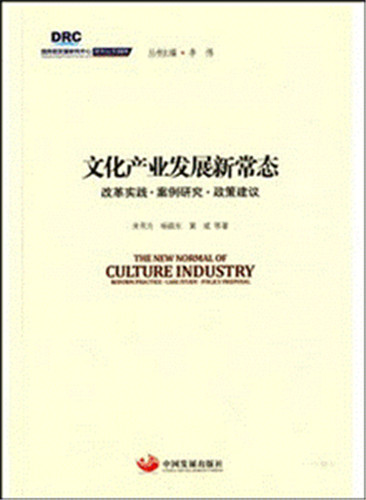 Lai Youwei, DRC
Based on previous researches conducted both at home and abroad as well as the connotations and characteristics of cultural industry, this book summarizes international experience on cultural industry development and looks back on the history of cultural system reform in China. It analyzes the reform practice and relevant cases of Chinese cultural industry and studies the development characteristics, development trend and business innovation model of cultural industry. Based on the practical conditions of Chinese cultural industry development under the new normal, this book offers a series of policy options to promote the healthy and sustainable development of Chinese cultural industry. These options include: promote cultural management system reform, cultivate modern culture market system, further increase policy innovation and support, gradually solve the deep-seated contradictions and problems relating to the transformation of cultural institutions and troupes into enterprises, optimize the integrated development mechanism for cultural industry with related industries, promote the clustering development of cultural industry, support cultural industry to go global and push for integrated development between traditional media and emerging media. Through these options, this book hopes to provide relevant enlightenment and reference for the government and departments in charge so that they could work together to fully release the potential for cultural development under the new normal. This book also includes some monographic studies on Internet access service industry, going-global strategy of Chinese film industry and the integrated development of the radio and television media in Hunan province. In addition, some case studies are made on cultural system reform and development respectively in Beijing, Shanghai and Shenzhen.
This book includes five chapters and six sections. The five chapters are about international experience of cultural industry development, characteristics and development trend of Chinese cultural industry, related systems and policies, current problems restricting cultural development and policy options for the sound development of cultural industry in China. The six sections cover the analysis of the following aspects: the progress, effects and enlightenment of Internet access service industry reform, current situations, problems and proposals for implementing going-global strategy of Chinese film industry, ways for the transformation from traditional media to emerging media and case analysis on Beijing, Shanghai and Shenzhen's cultural system reform and cultural industry development.
This book is a team work. Contributors include Lai Youwei, Yang Xiaodong, Huang Bin, Zhang Xiaolu, Zhang Xiaohuan, Zhuo Jie, Su Yang, Duan Bingde and Shi Guang from DRC, Liu Jie from the CPC Central Propaganda Department, Zhang Weiguo from the Ministry of Culture, Chen Wei from Beijing Municipal Propaganda Department, Wang Wei from Beijing Municipal Bureau of Press, Publication, Radio and Television and Song Fangxiu, Han Liyuan and Tong Xin from Economic School of Peking University. Lai Youwei is leader of the research group as well as the proof reader and reviser of the book. Thanks are given to all those who have given kind support to the research work as well as writing and publishing of the book. Due to limited time and knowledge, some mistakes and errors in the book are unavoidable and all criticisms and comments are sincerely welcome.