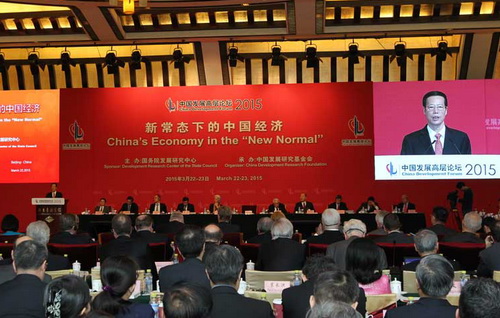 Vice-premier Zhang Gaoli addresses the forum's opening ceremony, at the Diaoyutai State Guesthouse, in Beijing, on Mar 22.
The China Development Forum 2015 took place at Beijing's Diaoyutai State Guesthouse on March 21-23, with China's senior official leaders, global business leaders, heads of international organizations, and Chinese and foreign scholars getting together to discuss major development issues of the country.
The forum, with a theme of "China's Economy in the 'New Normal'", was focused on China's development and reform in the 'new normal', fair and inclusive free trade,  ruling the country by law, the "Industry 4.0" strategy, advanced manufacturing, green financing, and state-owned company reforms.
The forum, whose purpose was to inform participants about China's economic and social development, its socialist development path and concepts with Chinese characteristics and approach to reforms, had Vice Premier, Zhang Gaoli, delivering an address on Mar 22, and Li Wei, the chairman of the event and president of the Development Research Center of the State Council (DRC), giving a welcoming speech.
Also on hand were the former US Secretary of State, Henry Kissinger, and China's vice-minister of the Ministry of Foreign Affairs, Zhang Yesui, who discussed new relations between the great powers in a changing world, at an economic summit, on Mar 21.
The forum's sponsor was the DRC and it encompassed 43 activities, eight conferences, 27 summits, and various dialogues and round tables.