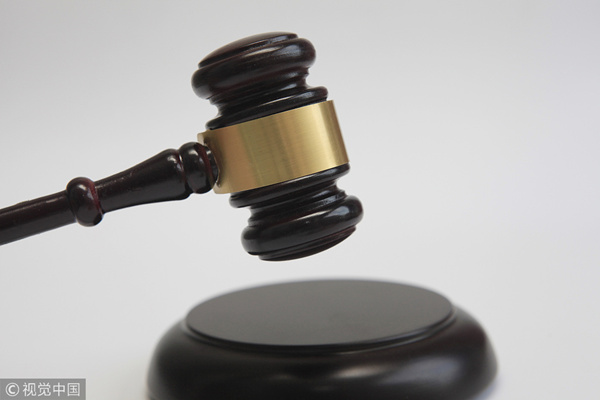 Prosecutors at all levels in China had instituted public interest litigation by November after amendments to laws last year allowed them to file civil and administrative lawsuits, the Supreme People's Procuratorate announced on Tuesday.
From January to November, procuratorates across the country handled 89,523 public interest lawsuits and filed 2,560 cases to the courts, the SPP said.
The number of cases being handled has grown rapidly, with the 32,345 public interest lawsuits handled in the third quarter of the year 45 percent more than the number handled in the first two quarters combined, Hu Weilie, a prosecutor from the top procuratorate, said.
Zhang Xueqiao, deputy chief procurator of the SPP, said public interest litigation has effectively protected the environment by recovering about 130,000 hectares of farmland, woodland, wetland and grassland, ensured food and drug safety for members of the public and helped recover direct economic losses of about 23.9 billion yuan ($3.47 billion).
He said the scope of protection had been expanded to the spiritual level since May, following the enactment of a new law that bans the slandering of heroes and martyrs.
Public interest litigation provided a systematic protection mechanism, enhanced the effectiveness of administrative law enforcement and judicial credibility, and was becoming better known by the authorities and masses, Zhang added.
"Prosecutors will continue to strengthen our ability in handling cases and increase the quality and effectiveness of case handling to make greater contributions to protecting national and public interests," he said.
In June last year, China's top legislature passed amendments to the civil and administrative procedure laws that allowed prosecutors at all levels to file civil and administrative lawsuits in cases concerning environment and resources protection, food and drug safety, state assets preservation and the transfer of land rights.
Before the amendments took effect in July last year, a two-year pilot program had been underway in 13 provincial divisions.
There were 9,053 public interest lawsuits handled during the pilot period, compared with 99,441 between July last year and this November. Cases related to food and drug safety accounted for 33.42 percent of public interest cases handled this year, compared with less than 1 percent during the pilot period, Hu said.
Since the beginning of the year, prosecutors had established strong leadership, launched special supervision campaigns centering on food safety, including the use of pesticides and false advertising, and conducted on-site inspections that reaped fruitful results, he said.
Hu said public interest litigation had been covered by all prosecutors in the country by Nov 23, when the procuratorate in Sansha Islands, Hainan province, filed a pre-litigation suggestion to local authorities.
However, he said, there were still some problems to solve. For example, cyberspace and production safety were beginning to pose increasing threats to public interest, but had yet been listed on the public interest litigation agenda.
Zhang said some prosecutors had taken steps toward covering such cases.
"We will report the problems to the Standing Committee of the National People's Congress in the hope to gradually push forward judicial interpretation," Hu said, "and we believe the scope of public interest litigation will gradually expand as various conditions mature."