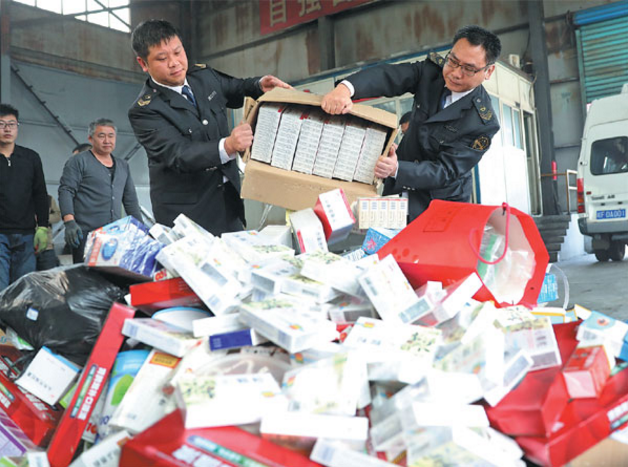 Enforcement officials prepare to destroy more than 3,000 boxes of fake medicine and some 20 types of counterfeit food products in Huaibei, Anhui province on Tuesday, which were seized during raids on counterfeiting activities last year. [Photo provided to China Daily]
Several international brands, including Adidas and Microsoft, have joined a team combating the online sale of counterfeit products that was formed by e-commerce giant Alibaba Group last year, Alibaba said on Friday.
The Alibaba Anti-Counterfeiting Alliance now has 105 members, from 16 countries and regions, it said.
The alliance has destroyed 247 workshops producing and selling fake goods over the past year, and helped police detain more than 300 suspects, it said, adding the amount of money involved in the cases was 1 billion yuan ($145.6 million).
In May, team member Louis Vuitton, which sells goods on Alibaba's e-commerce platforms, cooperated with police in Shanghai to identify 11,000 counterfeits of its products, leading to the arrest of 29 suspects.
The alliance, formed in January last year, aims to improve the protection of intellectual property rights on Alibaba's platforms and create a healthy environment for online purchases.
Members of the alliance collaborate to provide proactive online monitoring and protection, offline investigations and enforcement, industry law-enforcement workshops, litigation and public awareness campaigns.
Alibaba said the alliance provided some 200 clues about suspected counterfeits to public security departments from January last year to June this year.