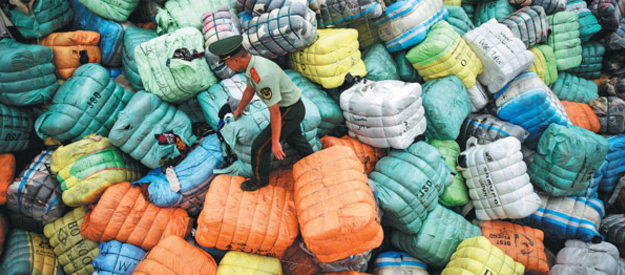 A border guard in Shenzhen, Guangdong province, inpects bundles of waste textiles smuggled into China. Mao Siqian/Xinhua
China's customs authority has seized 987,900 tonnes of illegal trash imports so far this year, up 157 percent year on year, the General Administration of Customs (GAC) said on Wednesday.
Since the beginning of this year, China has launched three rounds of intensified campaigns to crack down on trash smuggling, making every effort to prevent the import of foreign garbage, said the GAC.
Customs of China's Gongbei and Nanjing investigated in March a Shanghai-based trading company smuggling 313,500 tonnes of solid waste from foreign plants, according to the GAC.
China began importing solid waste as a source of raw materials in the 1980s and has for years been the world's largest importer, despite its weak capacity in garbage disposal. Some companies illegally bring foreign garbage into the country for profit, posing a threat to the environment and public health.
Given growing public awareness of environmental protection, the Chinese government decided last year to phase out and completely halt such imports by the end of 2019, except for those containing resources that are not substitutable.