Daughter was poisoned by infant formula; now he feels vindicated
Guo Li stared across the table, his calm exterior momentarily giving way to anger. "My fight is not over yet," he said, shortly after a court overturned his 2010 conviction for attempting to extort the manufacturer of a tainted milk powder that poisoned his daughter.
He said the verdict on April 7 by the Guangdong High People's Court-which came after Guo had served five years in prison, his full sentence-was a vindication of his efforts to get compensation for his family.
"It proves that what I've done for my daughter is legal," he said.
Guo was speaking in mid-April in the same teahouse in downtown Beijing where he first met with representatives from Guangdong Yashili Group, the company that accused him of blackmail, to discuss compensation after his daughter became ill in 2008 from drinking formula made from the company's tainted Scient milk powder.
After reading a government warning that several domestic brands of baby formula and milk powder had been contaminated with melamine, a toxic chemical that could lead to false protein readings in quality tests, Guo took his daughter, age 2 at the time, to the hospital for a checkup.
She was found to have mild symptoms of kidney stones, and since then "she has grown slower than average, developed an eating disorder and is now quick to anger", according to her father.
He also sent the Scient bottle to the China National Food and Safety Supervision and Inspection Center for analysis, which showed the milk powder contained 132.9 micrograms of melamine per 1 kilogram-132 times the national standard for all contaminants in the formula.
At least six children died and 300,000 others were poisoned by milk formula tainted with melamine in 2008.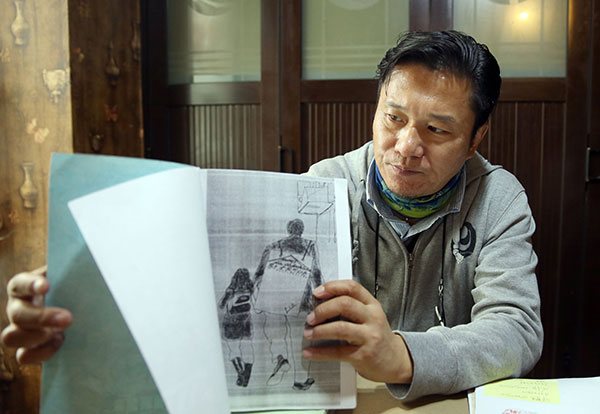 Guo Li, who was recently exonerated of blackmail after serving five years in prison, displays a drawing depicting him and his daughter. He said she was his motivation to carry on during his time in jail.[Zou Hong / China Daily]
No Compromise
"I couldn't bear to compromise as a father. Food safety is a life or death matter. What I did, I did to protect my child," Guo said, explaining that he first met with employees from Yashili to discuss compensation in June 2009. "After a negotiation in this teahouse, they paid me 400,000 yuan ($58,000)," he said.
Days later, in an interview with Beijing TV, he said the enterprises involved in the scandal should shoulder their responsibility and cover the costs for the families affected.
"This is when Yashili called to invite me again to meet and discuss compensation," he said. "I didn't think about it too much, but taking into consideration my child's physical condition and the money I'd lost from taking time off work, I suggested an additional 3 million yuan-and they agreed."
He said the deal was put in writing. However, within weeks, police arrested Guo while he was on a business trip as an interpreter in Hangzhou, Zhejiang province, on allegations of blackmail.
At his trial in January 2010-held in Chaozhou, Guangdong province, where Yashili is based-prosecutors said Guo had threatened the company in order to receive more money, according to a report by Guangzhou Daily. The nature of the alleged threat is unclear.