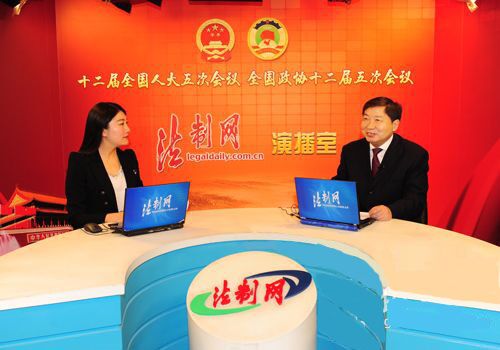 Xiong Xuanguo, vice-minister of justice, in an interview with Legal Daily on March 4. [Photo by Ju Yang/ Legal Daily]
Xiong Xuanguo, vice-minister of justice, highlighted reform of the lawyer governance system from the protecting the rights of lawyers, ensuring that lawyers adhere to ethical practices, and creating brands in the lawyer profession in an interview with Legal Daily on March 4.
Concerning protection of lawyers' rights, Xiong said that a governmental hotline platform should be established to solve difficulties and problems.
Xiong pointed out that the revised version of Administrative Measures for the Practice of Law by Lawyers and Measures for the Administration of Law Firms will be implemented. A regulatory system allowing the public to complain about lawyer misconduct and allocating punishment should be set up.
Xiong emphasized that lawyers' capabilities and delivery of legal services should be constantly strengthened.
In China there are more than 26,000 law firms and 328,000 lawyers devoted to the development of China's legal system. Almost all of them play an important role in protection of legal rights and promotion of social fairness and justice. But undoubtedly there are some who violate the regulations regarding practicing law and even break the law.
According to a meeting of the Ministry of Justice on Jan 14, the National Judicial Examination, one of the most difficult exams in China, will be held in 2017 for the last time. The meeting determined that preparations should be made for a revision of the national judicial examination system to a national unified legal professional qualification examination system. The reform is expected to improve the professional standard of legal practitioners in China.
Xiong said that the ministry will continue to organize judicial examinations and work for smooth transition of the judicial examination system into the unified national qualification system.