Robust exports of traditional Chinese medicine products so far this year have helped manufacturers mitigate the weaker demand in the domestic market.
Beijing Tong Ren Tang Chinese Medicine Co Ltd, the Hong Kong-based subsidiary of time-honored medicine producer - China Beijing Tong Ren Tang Group Co Ltd, is now increasingly focusing on growing its business overseas after posting a 33 percent year-on-year growth in revenue during the first six months of this year.
"Despite the global economic downturn, our retail revenue and sales have shown steady growth of 24.5 percent and 18.7 percent, respectively, compared with the same period a year ago," the company said in its interim financial report.
Tong Ren Tang has stores in 15 countries and regions.
TCM exports increased 10 percent during the first seven months compared with the same period in 2014, while China's total exports rose just 0.9 percent year-on-year in the first half of 2015, according to statistics from China Chamber of Commerce for Import and Export of Medicine and Health Products.
Ding Yongling, general manager of Beijing Tong Ren Tang Chinese Medicine, believes that the government's "going global" measures have helped TCM firms in overseas markets.
Most of the TCM products conform to international standards and the companies are more than capable of meeting the surging demand as awareness about TCM is spreading fast, she said.
However, it is also important for TCM companies to focus on brand building and creating a global network of stores for continued success in overseas markets, said Ding.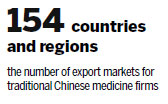 During the first six months of this year, the firm spent HK$6.5 million ($838,700) expanding its overseas distribution network.
The Belt and Road Initiative has also provided several business opportunities for traditional Chinese medicine exports, said Liu Zhanglin, deputy director of the China Chamber of Commerce for Import and Export of Medicines and Health Products.
Most countries along the Belt and Road are importing TCM products and they account for about half of the Chinese medicine exports, Liu said.
Traditional Chinese medicine products were exported to 154 countries and regions in the first six months. Hong Kong was the largest overseas market for the Chinese mainland with the total value of exports estimated at about $300 million during the period. Ginseng and Chinese wolfberry were the most popular TCM products in overseas markets, Liu said.
But other products are also gaining ground after Chinese scientist Tu Youyou won the 2015 Nobel Prize for medicine. Tu's award was for her success in obtaining pure artemisinin, a drug used to treat malaria, from sweet wormwood, a traditional Chinese herb.
All the six Chinese listed companies involved in artemisinin manufacture, including Shanghai Fosun Pharmaceutical Group Co Ltd and KPC Pharmaceuticals Inc, saw brisk trading on Oct 8, the first market day after Tu got the prize.
Tong Ren Tang shares dropped 2.74 percent to 25.24 yuan ($3.97) per share on Monday in Shanghai Stock Exchange. In Hong Kong, the shares dropped 0.84 percent to close at HK$9.5.
wangwen@chinadaily.com.cn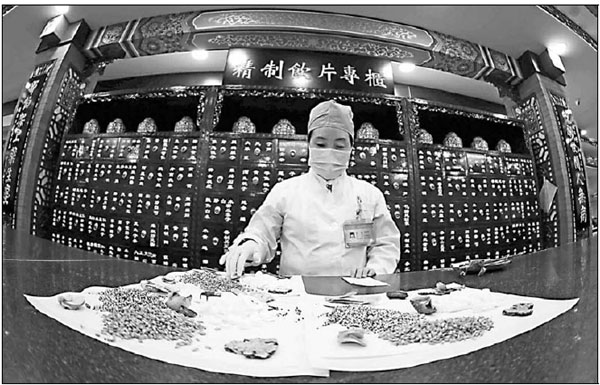 A worker makes up an order for a Chinese herbal medicine at a Beijing Tong Ren Tang Group Co Ltd store in the capital. Traditional Chinese medicine exports increased 10 percent during the first seven months of this year compared with the same period in 2014, while the country's total exports rose just 0.9 percent year-on-year in the first half of 2015.Meng Jing / Xinhua
(China Daily 10/20/2015 page16)