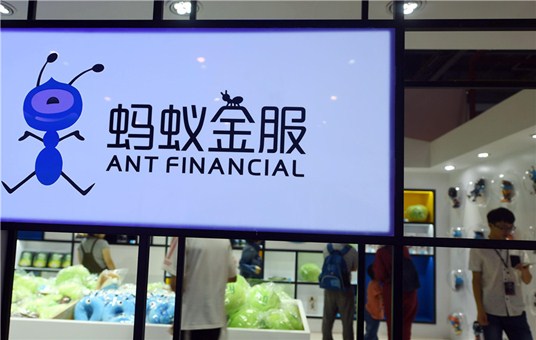 Visitors tour an exhibition center of Ant Financial in Hangzhou, Zhejiang province. [Photo by Long Wei/For China Daily]
Amid the novel coronavirus outbreak, blockchain technology has shouldered additional enterprising undertakings, leading to increasing financing demand for smaller businesses in more efficient ways.
A total of 87 Chinese enterprises have received over $200 million in loans through a cross-border, pilot blockchain financing platform since the Lunar New Year holiday (Jan 24-Feb 2), said Xuan Changneng, deputy administrator of the State Administration of Foreign Exchange.
Small private businesses have been the most severely disrupted by the ongoing epidemic. Peking University estimates the sales volumes of individual sellers plummeted 50 percent in the first half of February, compared with conventional standards in previous years.
Using blockchain technologies, Ant Financial's supply chain financing offerings have helped quench the financing thirst of many small and micro-sized companies, which are vulnerable to capital shortfalls.
The technology circumvents the hassle of on-site inspections and endless paperwork, and best serves SMEs that are in urgent need of funds but lack the credit history as a prerequisite to apply for bank loans, said Zheng Hao, a product manager responsible for the service.
Powered by risk control algorithms, loans can be obtained in the most ideal scenarios within seconds, Zheng said.
"Smaller businesses, which contribute to more than half of the national economic growth and employment, are crucial to getting the economy back on track. It is imperative that they obtain financing in a prompt manner so as to weather the storm," he added.
1919, an e-commerce site marketing spirits, said it has leveraged the service to provide loans worth nearly 100 million yuan ($14.4 million) for a number of upstream companies related to the site.
"Alcohol and beverage makers have felt the pinch caused by the contagious disease, and they are scrambling to get capital injections in order to survive," said Jin Qinghai, vice-president of 1919. "Blockchain provides fast, secure and precise financing options while minimizing social contact."
Cross-border, financial blockchain services can play a bigger role in helping SMEs improve the efficiency and convenience of getting export trade financing and other financing credit support, said Henry Ma, chief information officer at Tencent-backed online lender WeBank.
"It provides fast, secure and precise financing needs and minimizes human contact. With no need for collateral, the technology's far-reaching influence goes beyond the epidemic," said Huang Yiping, director of the Institute of Digital Finance at Peking University.
On the individual user end, Ant Financial has also added coronavirus to the list of eligible claims at Xiang Hu Bao, an online mutual aid platform.
The product enables a one-time payout of 100,000 yuan for those affected by the virus. The platform is also built on a blockchain network, employing the technology to serve its 104 million users.