As a Zhongguancun enterprise, BOE has always adhered to technology-driven innovation. According to statistics, BOE's 2018 shipments of LCD TV panels exceeded that of,LG Display Co, one of the world's biggest manufacturers of display panels used in smartphones and televisions, ranking first in the world that year.
"The display shipments of BOE increased by 24 percent year-on-year in 2018, and its dispatch area increased by 45 percent year-on-year, which is the highest growth among the top five panel makers in the world," According to Sigmaintell Consulting analysts, who added that BOE achieved remarkable results in 2018: the world's first 10.5 generation TFT-LCD mass production line was put into operation, and its TV panel production capacity increased by over 40 percent.
Meanwhile, BOE's product structure continues to optimize production of large TV displays. Screens of 55, 65 and 75 inches increased sharply, and BOE's market share of 75-inch TV displays tops in the world.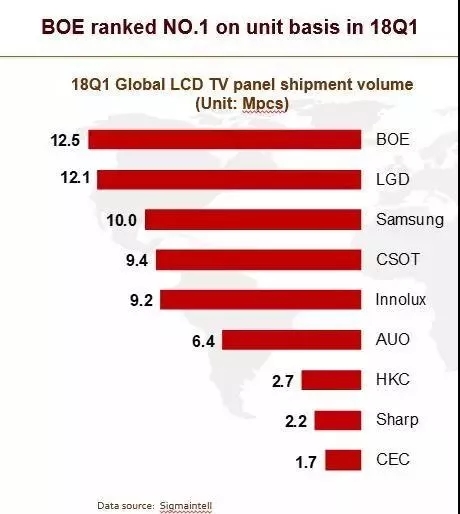 Global shipments of LCD TV panels in the first quarter of 2018 [Photo provided to chinadaily.com.cn]
BOE accelerated its technology upgrading and achieved a new breakthrough in liquid crystal display technology in 2018. By applying megapixel partitioning technology, BOE 4K display achieved a 100,000-level ultra-high dynamic contrast ratio, with a color depth up to 12bits, so that the LCD display perfectly shows the ultra high definition display effect.
Recently, the US patent service agency IFI Claims released the 2018 US statistics report on patent authorization. BOE's global ranking had jumped to 17th, with patents granted in America reaching 1,634, an increase of 16 percent. BOE is now the fastest-growing company among the TOP 20 enterprises listed by IFI Claims.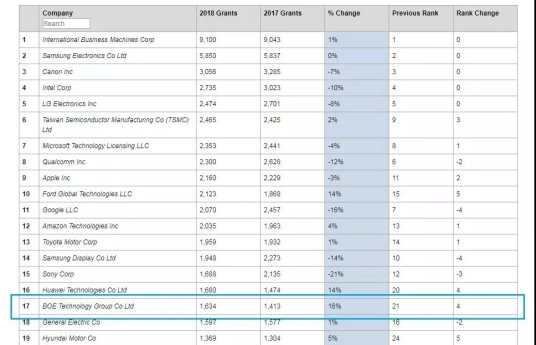 The 2018 US statistics report on patent authorization released by IFI Claims. [Source: IFI CLAIMS official website]
Innovation is the only path on which companies can survive and succeed. Since its founding, BOE has always maintained its respect for technology and innovation and has ranked first in the industry for patent applications for consecutive years.
In 2018, BOE added 9,958 new patent applications, 90 percent of them invention patents and 38 percent overseas patents covering the United States, Europe, Japan, South Korea and other countries and regions. The total number of patents held by the company exceeds 70,000.
BOE has not only become one of two Chinese companies included in the US IFI Claims TOP 50, but has also been the top ten in patent ranking by the World Intellectual Property Organization (WIPO) for many years.
Some technological innovations of BOE in the semiconductor display industry are as follows:
Transparent waveguide display
There seems to be only air in front of you, but a clear and colorful picture suddenly appears. The transparent display of the waveguide has a transmission rate of over 80 percent.
Without using light plates, polarizers and color film, the light is transmitted and diffused through the total reflection of the waveguide. Compared with existing transparent display technology, the transparent display of the waveguide can transmit clearer pictures and reduce costs.
Full HD driver monitor
Full HD driver monitors combine AI algorithms, sensors, displays, cameras and other innovations to sense drivers' physical condition and alert them when they are fatigued, thus reducing traffic accidents.
"4317 full-spine flat-panel detector"
The "4317 full-spine flat-panel detector" is the world's first and largest flat-panel detector for full-body scanning. It takes a one-time shot to obtain a complete human spine image, which avoids the patient's exposure to accumulated X-ray doses and greatly reduces radiation damage.
Dynamic ECG recorder
The dynamic ECG recorder is a medical product of BOE. It can collect ECG waveforms, obtain doctors' diagnoses online, and quickly find ECG abnormalities. The intelligent clinics include an AI general practitioner system and an intelligent clinic information system that can make intelligent diagnoses and assist doctors in treatment.
As a technology company, technology is always BOE's biggest driver. The company also draws strength from its superior technical application.
Over a decade ago, due to the lack of core technologies in the field of semiconductor displays, China's electronic information industry was shrouded in the shadow of the "lack of LCD screens", and was even unable to independently manufacture a complete LCD TV.
For more than ten years Zhongguancun has watched China's semiconductor display industry start from scratch and develop.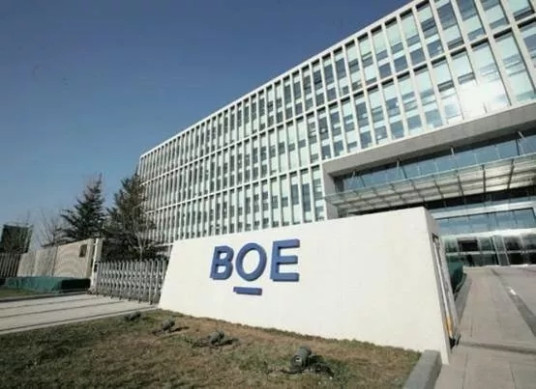 Acquisition of Hyundai Electronics' LCD panel businesses gave Chinese semiconductor companies a chance to break through technological limitations. [Photo provided to chinadaily.com.cn]
A group of semiconductor companies like BOE seized the opportunity to acquire Hyundai Electronics' LCD panel businesses. After digesting, absorbing and re-innovating, the companies mastered liquid crystal display technology and ended the dependence on imports in the Chinese semiconductor and display industries.
"Our growth in these years can be summarized in one sentence:' It is the respect for technology and the persistence of innovation that constitutes our core values.'" said Wang Dongsheng, founder and chairman of BOE, who added that "Having technologies doesn't mean victory; but without technologies, failure is unavoidable. To keep up with latest technologies for 30 years, technological innovation can't be neglected."