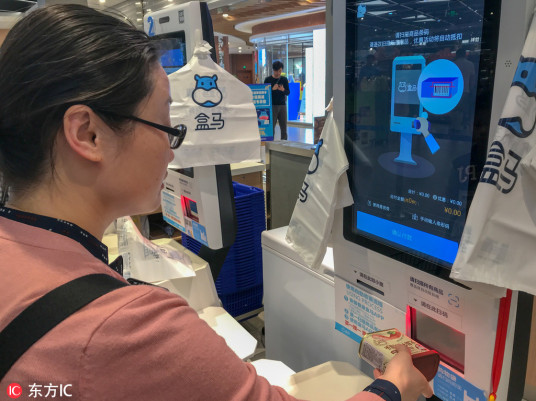 A customer shops at the fresh food e-commerce experience store Hemaxiansheng or Hema Fresh of Alibaba Group in Shanghai, on May 6, 2018. [Photo/IC]
NEW YORK - Facial recognition payment, app-enabled self-checkout, digitalized inventories... Alibaba's offline Hema supermarket was on display in New York City during the 2019 Retail's Big Show on Jan 13-15, featuring artificial intelligence (AI) and the e-commerce giant's concept on the future of retail.
Hema launched its first store in January 2016 in Shanghai and so far has owned over 100 stores across China. It was defined as a "Pathfinder of Alibaba's New Retail" through technology and data in a bid to merge online and offline retail, according to public corporate information.
The AI technologies applied in Hema focus on improving consumers' experience and retailers' operation efficiency, blurring the line between online and offline shopping, Guo Xulin, business assistant to Hema's CEO, told Xinhua, calling Alibaba's New Retail concept a "locomotive" to lead the retail industry moving forward.
Retail digitalization
"We have thousands of products on the supermarket's shelves. It was actually a big problem perplexing the traditional retail industry of how to guarantee appropriate storage, and avoid either going out of stock or wasting of products," Guo said.
To resolve the problem, Hema resorted to an algorithm in machine learning, a subfield of AI, which identifies patterns in observed data, builds models that explain relevant phenomena and makes predictions.
"In this way, we can learn each product's demand patterns through customers' consumption, so that we will be able to order the product more precisely," he said.
The supermarket has recently rolled out a new service that allows online purchases to be delivered within 30 minutes, also powered by machine learning, Guo said.
AI technology can precisely match multiple factors in retail to fulfill customers' need, including product information, order requirements, traffic data, weather conditions and delivery staff deployment.
Hema supermarket is "the example of New Retail of the food category, fresh food and grocery category," said Michael Evans, president of the Alibaba Group, during a business talk at the show on Monday.
In terms of consumers, either online or offline, personalized needs are the top concern for such technologies, which allow customers to get everything they want at one stop.
"New Retail has done deeper research on customers than traditional retailers, and thus accumulated much more understanding and customer insights," Guo said. "In the future, we can develop and customize merchandise based on consumers' demands."
For retailers, the integration of online and offline operations involves many complex components, including inventory, supply chains, logistics, payments, delivery and order fulfillment, which Alibaba has aimed to resolve through digitalization of the main facets of the retail industry.
In his 2017 letter to shareholders, Jack Ma, co-founder and executive chairman of the Alibaba Group, called the company's New Retail initiatives as the starting point to its "Five New" strategy, the others being New Finance, New Manufacturing, New Technology and New Energy.
"'E-commerce' is rapidly evolving into 'New Retail.' The boundary between offline and online commerce disappears as we focus on fulfilling the personalized needs of each customer," Ma said in the letter.
To make it simple to grasp, Evans defined the newly coined concept as "the digitization of entire retail value chain for the benefit of the merchant and the consumer."
"We've created a technology platform that allows you to digitize everything you were doing online and offline, integrate them, provide merchants with all that data, so that they can optimize the supply chain," he explained.
"So that they can think about how to make the fulfillment and delivery more efficient and more productive, and ultimately to increase the bottom line profits margin," Evans added.
AI Focus
In the next three years, the retail industry will be more extensively empowered by AI, as the AI adoption rate by the industry is estimated at 54 percent, surpassing that of the banking, manufacturing and healthcare sectors, which have largely utilized the first-class technology in recent years, according to Deborah Weinswig, CEO and founder of US retail and tech consultancy Coresight Research.
It is predicted that China would be the top country followed by the United States in AI spending from 2017 to 2022, said Weinswig at a panel discussion during the show on Monday.
She said that the ranking is thanks to China's massive investment, presence of large tech firms such as Tencent and Alibaba, supportive government policies and a huge amount of data based on its large population.
Evans is optimistic about the future of retail both in China and globally, as he believes China's economy will probably be the largest in the world, because the percentage of consumption in total GDP will be the largest in the next 12 to 18 months.
"Another 300 to 400 million people will move into the middle class. And it will not be a market that most small businesses brands and retailers could ignore," he added.
"For those of you who haven't been to China recently, you should come to China. Come and see what's going on. It's quite extraordinary what's happening innovation and technology in retail across all categories," Evans said.